FBI Agent Jailed for Exposing Corruption in CIA, White House
New Two Volume Book Set Details His Life and Plight
By: David Deschesne
Fort Fairfield Journal, September 17, 2014
DANNEMORA, NY - A FBI Special Agent and U.S. Army Lt. Colonel suffered fallacious sexual assault charges and is spending up to 90 years in prison after exposing criminal activity within the Central Intelligence Agency and the White House during the 1980s.
Richard Taus was a helicopter pilot in Vietnam where he earned three Bronze Stars and seven Air Medals. The decorated veteran survived the Tet Offensive and flew dangerous helicopter missions in support of the Marines at Khe Sanh.
While in Vietnam, then Captain Taus came to the aid of a downed Air America transport plane that had crashed in the jungle. Air America was a CIA front operation originating in Indochina and was employed as a troop transport as a cover for its illegal drug running operations. When Taus came to the aid of the unharmed Air America pilots and offered to fly them back to their base of operations, they politely refused and said they would wait for Air America personnel because their plane's cargo held around 4,000 pounds of heroin.
This was Taus' first experience with some of the more nefarious activities promulgated by the U.S. government.
While in Vietnam, Taus, a bachelor, became the first single soldier to legally adopt a Vietnamese child - 4 year-old David Richard Taus - after a personal visit to then South Vietnam President, Nguyen Van Theiu to receive a an adoption waiver because of his marital status.
After retiring from active duty, Taus took a position with the Federal Bureau of Investigations as a special agent in their field office in New York.
While an agent with the FBI, during the 1980s, Taus investigated the Iran-Contra Arms Initiative Affair (Irangate), the Iraqi-USDA Food Loans used to purchase weapons (Iraqgate), the U.S. Savings & Loans debacle, organized crime/Mafia cases, the genesis of the 9/11 terrorist threats and a host of other high profile cases. It was during those investigations that Taus uncovered unlawful CIA operations and companies involved with covert domestic and overseas operations, financial frauds, money laundering, drug trafficking, and illegal weapons sales from intelligence officials all the way up to Vice President Bush.
"I reported the involvement of official agents and operatives of the CIA with organized crime members and drug trafficking activities," said Taus. "Also, the participation by members of the CIA who engaged in the looting of the Savings and Loan industries, financial crimes and fraudulent securities transactions."
Taus cites involvement of people from the National Security Agency (NSA) staff in criminal associations with funding the acquisition of military supplies and equipment, arms and ammunition for both Iran and Iraq. He investigated associations between known and suspected members of the Mafia and CIA agents in conducting drug trafficking activities and financial frauds.
As an FBI Special Agent, Taus was required biannually to sign a written statement to the House and Senate Intelligence Oversight Committees stating that he as an agent knew of no unreported criminal activities or operations.
Because he had such knowledge he refused to sign the form, which caused a firestorm of retribution against him by his superiors - some of whom were involved in illegal activities of their own.
"I was ordered by my supervisors in the FBI to halt these investigations," said Taus, "to destroy my written reports, terminate my informants and make no reference to these criminal and subversive activities implicating high ranking government officials who controlled and manipulated government agencies and operations."
Without any support from his superiors, Taus sent a letter describing his discoveries to then FBI director, William Sessions, which was subsequently ignored. "I proceeded to write Congressional officials, among them Senators Arlan Spector, Alfonse D'Amato, John Kerry and Congressmen Norman Lent, Charles Schumer, and many others who were on both the Senate and House Intelligence Oversight Committees," explained Taus. "None of them provided any support or assistance in exposing the CIA-White House corruption and the obstruction of justice tactics by my FBI superiors."
During his undercover investigations, Taus used his position as a soccer coach in the Freeport Soccer Club to infiltrate a CIA K-team which was operating under the name National Freedom Institute and called their operations "The Enterprise."
The K-Team's illegal activities led back to Oliver North, Bill Casey, and Vice President George Bush.
In an attempt to silence Taus, the CIA put forward two young boys who alleged sexual misconduct by Taus against them.
"After I refused to sign the acknowledgement that I knew of no violations of U.S. laws, FBI headquarters and the New York office engaged in a cover-up of the Irangate and Iraqgate scandals," said Taus. "A week prior to the 1988 Presidential elections, I was suddenly arrested by FBI NYO agents and charged with misuse of a government credit card and information filed regarding sexual abuse allegations."
Taus had a solid alibi by showing he was far away from the alleged sexual misconduct incident in Long Island on the date it supposedly occurred because he was attending his Army Reserve unit's Annual Training. The credit card charge was for $10 worth of gas for his own car he was using while on an investigation, where no government car was available.
Since 1976, Taus volunteered for community activities, specifically managing and coaching youth sports teams where his adopted son was a player. By 1981, he organized and operated the Freeport Sports Club, also known as the Freeport Soccer Club, a registered New York State non-profit charitable organization. For eight years, from 1981 until his arrest in 1988 he ran the club with no complaints, problems or incidents.
"The families of the boys had earlier been charged with criminal offenses, but those charges were dismissed only after the youths did what the prosecution wanted," said Rodney Stitch, a former Federal Aviation Safety inspector, international airline captain and Naval aviator who wrote a book entitled FBI, CIA, The Mob & Treachery covering Taus' dilemma. "The teens were told they themselves would go to jail unless they cooperated with the frame-up."
Despite the prosecution's incredibly weak case, and Taus' rock-solid alibi, he was sentenced to an unprecedented 32 to 90 years in prison as punishment for his revealing the crimes of D.C. insiders and politicians.
"I was arrested on fallacious criminal charges which turned out to be a successful effort to silence me," said Taus. "I need help and support from all Americans concerned about the corruption of their government."
Taus' son, David has recently released a two volume book set entitled To Be a Hero; An American Boyhood Memoir and To Be a Hero; Stolen Honor Inside the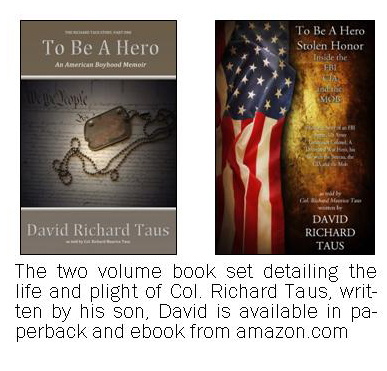 FBI, CIA and the Mob detailing Col. Taus' early life through his career with the FBI. They are available in e-book or paperback at amazon, barnes&noble and other major booksellers.

"There's a lot more to tell about the corrupt judicial system and outright violations of all Americans' constitutional rights," Taus told the Fort Fairfield Journal. "It's really terrible. In 1996 the 'Antiterrorism and Effective Death Penalty Act' was passed by Congress further restricting the rights, even for regular criminals, and there are many who are innocent or who received outrageously long sentences!"

After serving 23 years in prison, the now 70 year-old Taus is suffering from several ailments affecting his health.

Taus has been busy in his prison life. He served as President of the All Inmate Matters (AIM) organization from 1992 - 1996, is the present coordinator for the Pre-Release Program of the Transitional Services Center from 1998 to present, securing IDs, Licenses, housing and counseling services for inmates preparing for their release from prison; and from 2000 to present is an Inmate Orientation Advisor for newly assigned inmates, instructing them on the facility rules and expected behavior and decorum.

He has received five letters of commendation from the NYSDOC for instructing the Legal Course while in prison and for charitable fund-raising activities, such as donations to the 9/11 victims, Red Cross, Oxform, and Salvation Army.

Taus has unsuccessfully petitioned the Governor of New York for clemency in the hopes of spending what's left of his life with his family.

His mailing address is:

Richard Taus 91A1040

Clinton Correctional Facility

P.O. Box 2001

Dannemora, New York 12929