Body of Swimmer Recovered by Warden Service
July 28, 2012
HANSON LAKE, MAPLETON – At 1:20 this afternoon, the body of Randy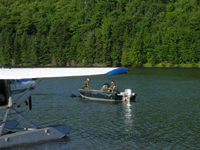 Muir, age 30, from Presque Isle was recovered from Hanson Lake. Muir's body was recovered in 20 feet of water by Game Warden Bob Johansen and Maine State Police Sergeant John Cote. At approximately 10:30 PM last evening, a group of four friends were at the Hanson Lake boat launch, a common gathering place near the Presque Isle Airport. It appears that members of the party had been drinking and were swimming in the lake during the evening hours. Muir attempted to swim across the lake by himself. According to witnesses he made it a considerable distance across the lake before the group on shore heard calls for help. The lake is approximately 250 yards wide at the incident location. The subject was not seen going under due to darkness.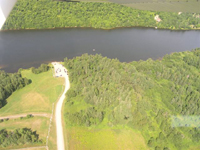 A land search was conducted around the lake, and watercraft searched the surface. The Maine Warden Service Dive Team made several dives into the water today. The water was very murky and filled with obstacles such as stumps. Divers were forced to swim three feet from one another due to the poor visibility. Alcohol is suspected as a contributing factor in this incident.
The search was supervised by Game Warden Lieutenant Tom Ward, with help from Sergeant Dan Menard, Warden's Alan Dudley, Preston Pomerleau, Ethan Buuck, Kevin Pelkey, Edward Christie, and MWS Pilot Gary Dumond. MWS divers on scene were Corporal Mike Joy, Sergeant Scott Thrasher, Warden's Bob Johansen, and Tony Gray. Maine State Police, Presque Isle Police Department & Fire Department, and Crown Ambulance service assisted with this incident.
photos/Maine Warden Service