County Folks Converge on Perham for Maine Maple Sunday

By: David Deschesne

Fort Fairfield Journal, April 3, 2013

PERHAM, Maine—Families across Maine visited sugarhouses on March 24, as part of Maine Maple Sunday, which took place at over one hundred sugarhouses across Maine. This annual event, held every fourth Sunday in the month of March, celebrated its 30

-year anniversary this year. Participating sugarhouses were open for visitors to enjoy freshly made maple syrup and candy, demonstrations of syrup production, sugarbush tours, and a variety of other family activities.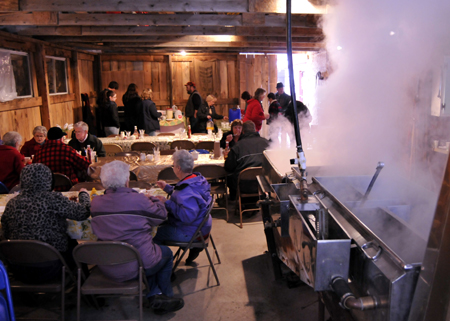 Some sugar houses, such as Salmon Brook Valley, in Perham, were open both Saturday and Sunday for visitors to sample fresh maple syrup on pancakes and even ice cream, as well as to watch the process of collecting the sap and boiling down to syrup.

Salmon Brook Valley is owned by Roger and Joan Connolly, from Perham. They have been processing maple syrup since 1996 and sell their product in local stores, such as Sleepers and Works of Heart, in Caribou and Grave's Shop & Save and Merchants on the Corner in Presque Isle.

"We also ship throughout the United States and even to Hawaii," said Roger Connolly. "Most of these customers are referred to us by other customers."

Salmon Brook Valley features 30 acres of maple trees, mostly rock maple, and 3,500 taps. Connoly explains how the weather can affect sap output from the trees. "Two years ago, we got 600 gallons of finished product, last year only 300 gallons. When the temperatures start to get too warm, the sap starts to get bitter and then shuts off." He said temperatures around 35 to 40 degrees Farenheit, are the best for maple sap production.

During the weekend, around 300 people made their way to Salmon Brook Valley for a pancake breakfast with fresh syrup. Picnic tables were set up in the sugar shack and both of the commercial sap boilers were processing maple syrup in the background.

Governor Paul R. LePage recently highlighted the start of maple tapping season with Maine Maple producers on the Blaine House lawn by following the annual tradition of tapping of a maple tree. The Governor used the event to highlight the economic contributions of Maine's maple syrup industry and its potential to create even more jobs. "This industry demonstrates the excellent opportunity Maine has to promote its natural resource

-based economy, as well as to promote job creation for our citizens," said Governor LePage.

"The maple industry highlights multiple uses of Maine's natural resources and how a wood lot has an array of benefits, such as maple syrup, wood production, recreation and open space. It also demonstrates the potential of our newly merged Department of Agriculture, Conservation, and Forestry to highlight all aspects of our natural resource industries," said Commissioner of Agriculture, Walt Whitcomb.

Commissioner Whitcomb recently presented a bottle of Maine maple syrup to United States Secretary of Agriculture Tom Vilsack during his recent visit to Maine.

Maine had 1.47 million taps and produced 360,000 gallons of maple syrup in 2011, a 14% increase from 2010. The latest yearly figures show that Maine generated nearly $13 million in revenue from the maple industry. In 2011, Maine was third in the nation, producing 13 percent of maple syrup in the United States. Figures for 2012 are not yet available.

photo/David Deschesne