Back to Fort Fairfield Journal      WFFJ-TV      Contact Us
Perham Author Writes Novel on Survival and Faith During a Post-Economic Collapse
An adventure story set in northern Maine that underscores the
importance of faith in surviving government tyranny and collapse.
By:  David Deschesne
Fort Fairfield Journal, March 13, 2019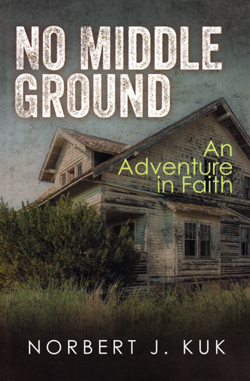 PERHAM, Maine—Author, Norbert Kuk, from Perham, recently released a novel entitled, No Middle Ground: An Adventure in Faith.
   The novel is written in the genre of a James Wesley, Rawles' Patriots Surviving the Coming Collapse but focuses more on Faith in God as the characters attempt to deal with a tyrannical government in the midst of a catastrophic economic and social collapse.
   According to the book jacket, "On one level, No Middle Ground is an adventure story that takes place in the cold woodlands of northern Maine—but also in and between two different worlds—with many surprises throughout.  It's also a love story that emphasizes the need for the spiritual as well as the physical."
   "On a higher level, No Middle Ground is a contemporary story of radical socio-economic change, material deprivation, human endurance, and above all, the importance of faith in surviving under dire conditions.  It underscores the belief that when God is all you've got, God is all you need."
   While the book is not meant to be a political statement, it briefly addresses some basic background economic and social issues that help explain existing conditions in the story.
   "The real underlying problem, however, is the past neglect or rejection of faith by the people, followed by the persecution of it by faithless people who have gained power."
   The book is 756 pages in paperback.  The length is likely due to the larger print font and line spacing to make it easier to read.
   Mr. Kuk is a is a former high school English teacher, from the late 1950's and early 1960's, but left that profession after three years when they voted to unionize in 1961.   He then spent seven years editing and writing for a tax and legal publisher.   "The rest of the time, up through 2016, I was a self-employed developer of private sector training programs, and also a management consultant, with lots of work for Dun & Bradstreet companies," Mr. Kuk told the Fort Fairfield Journal.   "Writing has been an important tool for me, although until this book I had written only technical/business materials, including a few books as a 'hired gun.'" 
   Kuk says the most important motivating factor in writing this book was for an opportunity to spread the Gospel through its application to a set of desperate circumstances.  He was also inspired and influenced by his friends, Jack McCarthy and Bob Roy, from the former Aroostook Watchman radio program on WXME in Monticello.
   Kuk says while he is a dedicated supporter of the Maine and U.S. Constitutions, he tries not to be "too preachy" to the average person on those documents.  "I believe the rank and file voters here won't sit still for sermons on constitutional law, and they are more likely to be influenced by a medium that entertains them at the same time.," said Kuk.  "After all, isn't that what the left has done to the majority of voters in this country over a long period?   They have Hollywood; they have the great majority of the colleges; and they're working hard on the public primary and secondary education sectors.   That took a lot of time  but it's been effective.   We are woefully late.   This book is a small effort to get people to think about what might happen to them if the left keeps getting its way."
  For more information, visit his website, www.survivalbyfaith.com .