Back to Fort Fairfield Journal      WFFJ-TV      Contact Us
Fort's FARM Park Pavilion
No Longer Safe for Occupancy
By:  David Deschesne
Fort Fairfield Journal, November 8, 2017
FORT FAIRFIELD, Maine—The structural beams at the FARM Park pavilion on the West Limestone Road have shifted to such an extent that Darren Hanson, Director of Public Works, and town manager, Jim Risner are concerned about its continued structural integrity.
   The problem appears to be in the header beams on both sidewalls.  As the poles have shifted, the beams—which are only held on with light gauge steel strapping and nails—has shifted to the point that some poles aren't supporting the beam at all and others only barely.
   "Mr. Hanson expressed these concerns with an engineering firm.  Based on that discussion we went out to three engineering firms, BR Smith, CSM Incorporated and Sewell to get quotes on what needed to be done or what actions needed to be taken," Mr. Risner told the town council during their October meeting.
   "We did receive two quotes on October 17 for the structural review summary report and general recommendations for repairs to the FARM park pavilion.  BR Smith Associates out of Presque Isle had a quote of $1,300 and James W. Sewell company out of Caribou, $2,500."
   The contract  to produce a report on the FARM Park pavilion's structural analysis was awarded to BR Smith Associates using funds from the undesignated funds account.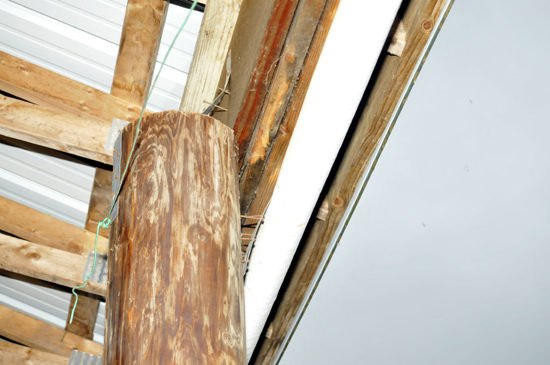 The header beam on the sidewalls at FARM park is sliding off its support posts.  Here you will see one of the nearly dozen problem areas with the steel strapping warped out and nails ripping out of the wood as the load-bearing header beam has moved over the years.                                                photo/David Deschesne