Back to Fort Fairfield Journal      WFFJ-TV      Contact Us
Amateur Radio Club Discusses Software Defined Radio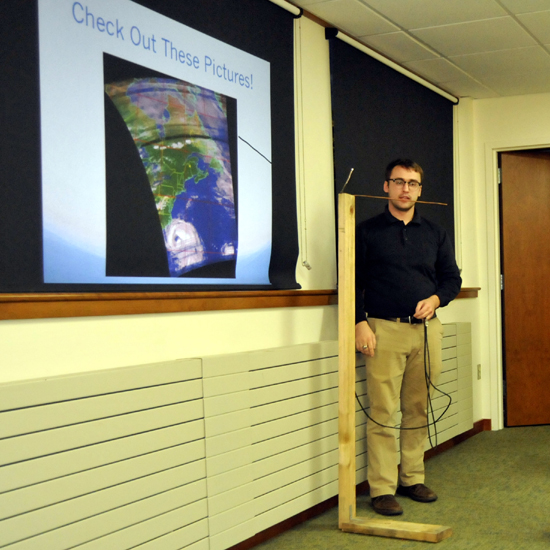 Darius Haskell recently gave a presentation on Software Defined Radio at the Aroostook Amateur Radio Association's monthly meeting at the Presque Isle Public Library.  Here, he shows a homemade antenna constructed from a 2x4 and couple short pieces of copper tubing which he has used to receive images from NOAA weather satellites via his computer.             photo/David Deschesne
By:  David Deschesne
Fort Fairfield Journal, October 11, 2017
PRESQUE ISLE, Maine—Amateur "Ham" Radio has been in the news a lot lately as a trifecta of hurricanes crippled the vulnerable and fragile cell phone and landline communication systems of the U.S. East Coast and Texas last month.
    The Aroostook Amateur Radio Association (AARA) in Presque Isle shares membership affiliation with the local Amateur Radio Emergency Service (ARES), which coordinates with the Aroostook and Maine Emergency Management Agencies for emergency, grid-down communication.
   At its regularly scheduled monthly meeting at the Presque Isle Public Library, the AARA discussed Software Defined Radio (SDR) during a presentation offered by club member, Darius Haskell.
   SDR is a format that uses common computer systems with specialized software and simple USB hardware to receive, and even transmit a wide variety of communications.
   Haskell demonstrated some of the available equipment and software during his presentation in the library's conference room last week.
   "We're used to having big radios that can do all kinds of good things.  You can switch modes, go from single side band to FM.  Typically, there's some software that's running on that hardware to switch modes and stuff but that's not what SDR is," said Haskell. 
   "Software Defined Radio is a concept according to which RF communication is achieved by using software to perform the signal processing tasks," Haskell explained.  "So, instead of running the signal through hardware to shift the baseband or remove noise, all that is done by the actual software."
   Higher quality short-wave radios traditionally utilize large frames and often pricey circuitry to attain signal reception and processing. While those radios do operate very effectively, the physical space and pricing structure sometimes renders them impractical for the novice or casual user.  Over the past several years, manufacturers have streamlined some very small, powerful and economically priced circuitry that, when coupled to a standard computer system, can rival even the best of the larger hardware-based radio sets.
   "There are two little pieces of equipment that are so powerful because there's a few integrated circuits and the programming, the actual software itself does all the heavy lifting so to speak," said Haskell.  "You can get into Software Defined radio for not a lot of money.  A simple upconverter and USB dongle cost just under a hundred dollars.  With the USB dongle and upconverter, you can listen from .5 MHz all the way up to 2300 MHz so from the AM band all the way up to 2.3 GHz.  It's a huge range of frequencies.  You can find all kinds of stuff in there."
   While SDR exists within the digital realm in computer software systems, it is not strictly based in the digital format modes.  "SDR does not have to be a digital communication system.  A very complicated digital circuit board can be used to implement purely analog RF communications.  We can use SDR to not only receive a wide range of signals but we can use SDR to do something as simple as transmit an AM signal."
   Haskell says a complete kit with the up-converter, USB dongle, baluns, adapters and some antennas can be acquired for around $130.  When integrated to a computer running the appropriate software, he says the systems are pretty much "plug-and-play."
   "You can do a lot of things with SDR.  You can download pager messages and you can also view images from U.S. and Russian weather satellites.  There's also software to help you track aircraft in real time, as well as ships and weather balloons. You can even decode the digital Ham radio modes and listen to the Ham radio satellites, as long as you have downloaded the software to do it."
   The $130 SDR systems Haskell discussed are receive only.  Transmitting systems are available, but the cost begins to equal the more robust and powerful Ham radio transceivers currently on the market, which don't require computers to operate effectively.
   Haskell says a really good website for learning about SDR is www.rtlsdr.com There's also a RTLSDR forum on www.reddit.com   "They have a very active community there so you can go on, post a question and you'll get an answer in about a half hour or so."
   The AARA is composed of community members in central Aroostook County who are FCC-licensed Ham Radio operators.  While the majority get involved for the hobby and fun of communicating with other people around the world, they also understand that their hobby can also be used as a very effective last-hope means of communication in a grid-down emergency scenario, such as those which recently plagued Texas, Florida and Puerto Rico.
   With people today placing an alarming amount of naïve confidence in the weak and fragile cell phone and internet grid for their communications needs, a few understand that in a disaster event those lines of communications are the first to fail.  With a 12 volt car battery, a simple amateur radio transceiver and a random length of conventional electrical wire strung over a tree, Ham radio operators are able to communicate over thousands of miles with relatively little power using their training and equipment.
   The AARA meets on the first Thursday of the month in the Fall, Winter and Spring at the Turner Library in Presque Isle.  They also participate in an annual "Field Day" training exercise in June and enjoy several pot-luck dinners throughout the year.
   To learn more about Ham radio and some of the many interesting uses and aspects it offers, go to www.arrl.org or visit the AARA's club website at www.k1fs.org