Back to Fort Fairfield Journal      WFFJ-TV      Contact Us
Caribou SDA Holds Annual Camp Meeting in Mapleton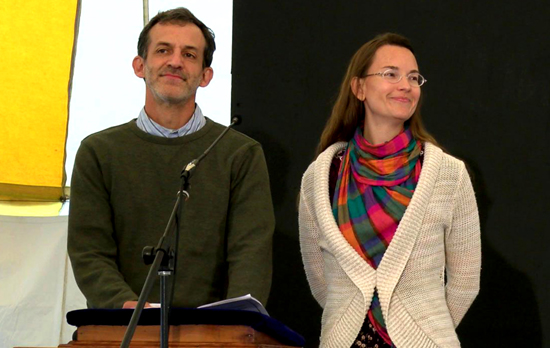 Corey & Caroline Wilmot from Lowell, Massachusetts were some of the guest singers who led song service at the Caribou Seventh Day Adventists' Northern Maine Camp Meeting on the last Sabbath of August photo/David Deschesne
By:  David Deschesne
Fort Fairfield Journal, August 30, 2017
   The Caribou Seventh Day Adventists, with the assistance of several other SDA church members hosted their annual Northern Maine Camp Meeting at Baptist Park in Mapleton last week.
   Seventh Day Adventists from across New England converged on the camp site from Tuesday through Sabbath (Saturday).
   Guest speakers for this year's Camp Meeting were; Michee Bade, Pavel Goia and Scott Ritsema.
   Bade gave a presentation on spiritual warfare and the effect evil demons can have on a person's life.
   "Demonization is somebody being under the control of an evil spirit," said Bade.  "Also an object can be under the influence of an evil spirit.  It can be an object, an animal, a place or a person."
   Bade has found across the country not everyone, even in the Christian community believes there's an actual devil named Satan.  "In 2014 I gave a presentation at an Adventist church in Michigan to about 200 people.  I asked how many there believed in a literal, ontological Satan.  I was surprised to see it was less than twenty percent."
   He says the way to combat demons is through Christ and a continual faithful walk with God.  "God is good.  He's faithful to his promises.  The signs of times show prophecies are coming to fulfillment."
   Pavel Goia spoke on the power and necessity of prayer and maintaining a continual connection with Jesus.
   "I strongly believe that whatever we know theoretically and whatever we do practically will make no difference for our salvation, for our families, for our friends, co-workers, until we really become aware of God's strong presence," said Goia.  "Until we become infused with his presence, until we are immersed in His presence, until we literally live in a real presence of God.  People cannot go to Heaven and live with Him there until they learn to live with him here."
   Scott Ritsema, a former High School history teacher, gave an elucidating seminar on how the mainstream media adversely effects the brain and how Prussian style public school education (mandatory government school attendance, segregated by age groups in individual grades) was designed to create a society of automatons with very little creative thought to operate the machinery and blindly obey government during the industrial revolution. 
   Ritsema also exposed an unhealthy connection people have with technology, specifically their cell phones.  "We are quickly merging with the technology.  I know that sounds kind of 'sci-fi' but it's happening in our world.," said Ritsema.  "According to Martin Lindstrom, the neuro-marketing executive at Apple, 'the same area of the brain that is activated when you are in love with someone is activated when you are in love with your cell phone.'"
   Ritsema also discussed in depth the adverse affects of media and gaming addiction as well as the subliminal themes in some of the popular Disney movies.
   DRD Audio/Visual produced videos of each speakers' presentation and those videos will be available in full on the Caribou SDA Fellowship's YouTube channel in the upcoming weeks.
   The Caribou SDA is also in the exploratory phase of locating suitable property in the area to contain a Christian school and campground of their own.
   For more info, visit their website, www.caribousdafellowship.org