Back to Fort Fairfield Journal      WFFJ-TV      Contact Us
Michael Kelley Retires After 45 Years in Banking
By:  David Deschesne
Fort Fairfield Journal, July 5, 2017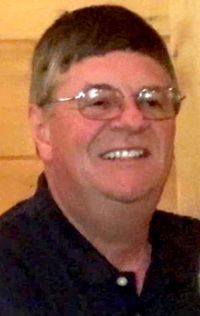 A retirement party for Michael Kelley was held at the Presque Isle Snowmobile club on Saturday, June 24.  Dozens of friends, family and well-wishers from across the State showed up to honor the legendary banking administrator in what for him was a surprise party.   "I have to admit this is just awesome.  I'm not much for surprise parties but this is awesome," said Kelley.  "I'm just so humbled by the folks that have come here today."
   Michael began his banking career at Depositor's Trust of Central Maine in 1972.  He then worked at First National Bank of Aroostook, Depositor's Trust of Aroostook, then Key Bank of Northern Maine when Key acquired Depositor's. Most of his early career was spent in the old Key Bank building in Fort Fairfield, which is now sitting empty.  After Key Bank, Kelley worked at People's Heritage, then TD Bank and finally Machias Savings Bank where he worked for two and a half years before retiring.
   The surprise party was orchestrated by his wife, Peggy (Haines) Kelley, who met him in 1974 near the beginning of his career.   "David Dorsey hired Michael as assistant manager at Depositor's of Aroostook, working with Gary Sirois," Peggy said.  "Gary hired me on the teller line.  The next day Michael and I met, began dating and were eventually married."
  Peggy reflected on their time together over the years; "Two things that Michael has done in his life that I'm extremely proud of is he chose banking as his career and I'm thrilled to death that he married me.  He and banking were very tight and he was really good at it.  He became a very compassionate person.  He really cared for the bank he worked for, the people he worked with and his customers."
   Peggy also explained that even though he worked with vast amounts of money in the banking business, that didn't adversely affect the frugal nature of a County boy.  "As we visited different places he would not gravitate toward the most expensive hotels or restaurants because that is not what we would do."
   Michael and Peggy had two sons, Mike and Mark.  "I couldn't be more proud of our sons, Mike and Mark.," said Michael. "You make our name very, very proud in our community.  It means so much to have you and I can't imagine life without you and the grandchildren.  My life is blessed, I don't know how it could get any better.  Thanks to all of you for the special relationships we all had.  I couldn't be more honored. 
   Mark started in banking at First Citizen's Bank, but transitioned out to become owner of Country Farms Market in Washburn.  "I can't go on enough on how proud I am of my father and how much of an inspiration he's been to me my entire life," said Mark.  "He's been a wonderful husband to my mother and a wonderful father to my brother and me.  He's worked very, very hard and retired very early.  I look forward to him spending time with his grandkids, spend time with mom, and enjoying his new motorcycle and camp.  I've bought, sold, traded and done a lot of different things and I'll tell you there are very few things that I've done without picking up the phone and calling my father and get his advice on it."
   Mark's brother, Mike currently works at Machias Savings bank and has worked in banking alongside his father for nearly two decades.   "I've spent most of my life with him and working with him for the last 18 years.  Most people don't get to experience working every single day with their father.  I feel like I'm blessed by doing that.  He encouraged me to work hard.  Everything we had to do we worked as a family.  I couldn't imagine living life any different than we did.  It was amazing, and going to work with him every day was incredible." 
   Michael ends his 45 year banking career at Machias Savings Bank.  Larry Barker, President and CEO of Machias Savings Bank attended the retirement party and said Michael has undoubtedly had a profound impact on the business community in Maine.  "Two years ago we had an opportunity to hire one of the legends in Maine banking and that's what I consider Mike Kelley to be," said Barker.  "Mike is incredibly well respected in this business from one end of the state to the other.  It's really difficult to quantify the impact that he has had on the State of Maine during the course of his career but I would certainly say with confidence that his efforts have led to the creation of hundreds, if not thousands, of jobs across the State.  His efforts have led to contributing to the great success of many business men and women in our state."
  Barker also said Michael exhibited exemplary attributes that are vitally important regardless of the business profession a person chooses.  "One of the things I've appreciated most about Mike, and been impressed by most, is his ability to connect, gain trust and build a strong, personal relationship.  He's an incredibly hard worker and we have valued greatly the time that we've been able to have Mike Kelley as a close member of the Machias Savings Bank family.
   Michael says he's excited about starting this next chapter in his life.  "I look forward to retirement, I look forward to Peggy and I spending some real time together and doing some things that we've always wanted to do."