Back to Fort Fairfield Journal      WFFJ-TV      Contact Us
Local Nine Year-Old Participates in National Golf Competition
By:  David Deschesne
Fort Fairfield Journal, April 12, 2017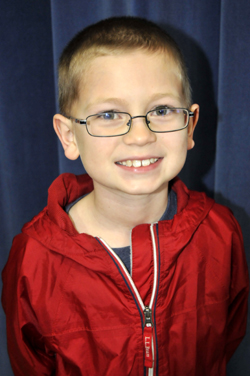 Nine year-old Michael Bruce, a student at Fort Fairfield Elementary school recently competed at the National Drive, Chip and Putt Challenge in Augusta, Georgia, where he finished in tenth place in the boys 7-9 year old division.
   Michael is the son of James and Melissa Bruce.  On April 6, he was honored in returning home to a limo ride through Main Street, with a police escort and a reception at the elementary school cafeteria where dozens of friends and well-wishers gathered to show their support for him.
   "The best part of the trip for me is I got to meet my favorite player, Dustin Johnston," said Bruce.  "It's really nice to know that you've played one of the courses that not many people have played before."
   "Throughout this entire process, Michael has conducted himself with grace and humility," said Sue Parks, FFES Principal.  "He has represented himself, his family, his school and his community in a very dignified manner."
  "We congratulate Michael and his schoolmates and teacher are very proud of him."
   He received a hard cover edition of the Sports Illustrated Golf Book from his classmates and staff at FFES. Parks also noted that Michael shows up on internet search engines as one of the thirty best pictures of the competition as she presented him with a framed portrait of himself at the event.
   Nine year-old Liam Giberson spoke to the audience regarding his best friend, Michael Bruce.  "It was really exciting to watch my best friend on national TV," said Giberson.  "In fact, we had a little gathering in his honor where we watched the competition and our eyes were glued to the TV.  Michael and I have been best friends since the first day of pre-school and I still hang out with him every day since.  Michael, you're the best friend a guy could have.  I can't wait for you to become a pro golfer and if you ever need a good caddy, give me a call."
   Steven Leitch from the Aroostook Valley Country Club (AVCC) delivered accolades on Bruce for his calm, pleasant and sportsmanlike demeanor.  "I'm fortunate enough to spend quite a bit of time with Michael over the past few years in the junior program at Aroostook Valley and he is very much a special young man.  He has a lot of talent, he's very dedicated, but most of all he's just a very, very nice young boy," said Leitch.  "I'm very glad that Michael did well, I'm glad that he achieves and excels in the game of golf but what I'm even more proud of and happy to see is how he achieves and excels at being a terrific human being.  He's only going to continue to get better at the game of golf."
   Larry Gardner, President of Fort Fairfield Athletic Boosters Club was also proud and impressed by Bruce's performance in Georgia.  "The putts you made on the first attempt - that long putt, I didn't see anybody else's all day that was any better than that.  Congratulations, we're extremely proud of you.  You put Fort Fairfield back on the map," said Gardner. 
   Michael and his dad, James received a free entry to the Fort Fairfield Athletic Boosters annual Memorial Day golf tournament at AVCC coming up next month.
   "Most of you know I spend quite a bit of time at the golf course.  Often times I get out there when Michael, his dad or his mom, get there which is in the evenings often around 6 or 6:30," said Tom Towle, director of the Fort Fairfield Parks & Recreation Department.  "It's taken quite a commitment from not only James, but also Melissa to see that he gets out there and has an opportunity to practice.  There are the rainy nights, there are the cold and windy days and often times you'll see Michael right out there with either mom or dad helping him out and that's certainly what it takes not only for a youngster to become proficient at golf but whatever the endeavor is they have it certainly helps to have that parental support."
   "When I first saw him as a six or seven year-old when he started in our recreation program, whether it was soccer, baseball, basketball, you couldn't tell if he just made the winning basket or if he just missed the losing basket.  He always had the same temperament, same attitude, and I think that's probably what gave him the advantage over a lot of other golfers that he participates with.  It's the fact that those little things don't bother him, he forgets about what happened and moves on to what's coming up next.  So it was no surprise to me to see how well he did this year.  I've been watching him just like everybody else out at the golf course.  We encourage him, I just wish I could putt like him."
   The Fort Fairfield Town Council recently passed a proclamation making April 6, 2017 "Michael Bruce Day" in Fort Fairfield. 
   Michael is currently signed up to compete in the National Drive, Chip and Putt competition again this year.