Back to Fort Fairfield Journal      WFFJ-TV      Contact Us
Backstage at the MacMaster-Leahy Concert
A technician's perspective
By:  David Deschesne
  [Editor's note:  I started publishing Fort Fairfield Journal 13 years ago, but I have been providing professional sound systems for the past 30 years (Huh?  Am I that old?).  My son and I recently provided the sound system for the Natalie MacMaster/Donnell Leahy concert at the Caribou Performing Arts Center.  I will be writing this story in the style of first-person narrative of my experience that night, working with the band.  For those of you who slept through English class, 'first-person narrative' means I'll be telling the story from my point of view, using the personal pronouns, 'I,' 'my,' and 'me.' This will not be the predictable cookie-cutter, boiler-plate interview with the band, but rather, it will be written from my perspective as sound system contractor. This is a bit unconventional compared to the style you're used to from the stuffy, establishment media, but I can do it because it's my newspaper and I write about what's interesting to me.  Hopefully, it will be interesting to you, too.]
   Despite freezing rain and substandard road conditions in Caribou, a near-capacity crowd still turned out for the Natalie MacMaster/Donnell Leahy concert at the Caribou Performing Arts Center on the evening of Tuesday, March 7.
  The high-energy fiddle music was a blend of Celtic, Irish, Jazz and Pop.     In a sort of feedback loop with the jubilant crowd,  the two-hour show started off fast and picked up more speed and energy along the way.
   My son, Robert and I provided the sound system for this concert.  This group was the most friendly, amiable, and pleasant touring bands that I have ever had the opportunity to work with.  Over the years, I have provided sound systems to Molly Hatchet, Survivor, John Caferty and the Beaver Brown Band, and Ray Sawyer ("Dr. Hook").   I had also worked with the Kentucky Headhunters. While the Dr. Hook gig was low stress, Natalie and her family was low stress, plus fun.
   It's quite a feat to keep things light and fun when dealing with the stresses of the road, anyway,  but the husband and wife team of Leahy/MacMaster took it up a notch by putting five of their six children, along with Natalie's seventeen year-old nephew, into the show on this tour.
Sitting backstage with the band, the kids were able to be kids, running around, playing with each other and carrying on like it was a Sunday afternoon pot-luck picnic  with friends and family.  But, when it came time to perform, they hit their cues  and were all business; each performing their own fiddle solo and joining together for a group step-dance routine.  While they were young, their fiddle solos did not sound like that of beginners.  Rather, they carried themselves and performed like seasoned pros.  Donnell jokingly told the audience, "they're our retirement plan" while Natalie suggested they were genetically predisposed to be fiddle players.
   In mingling with the crowd during intermission, someone mentioned they knew Natalie was an awesome fiddle player, but wasn't aware her husband, Donnell was as good as he is.  Robert and I were talking with Donnell backstage before the show and he told us that he had been playing fiddle for the past forty-five years, since he was three years-old.  Okay, do the math, he's my age.
   Arriving in a large tour bus, the band traveled with just their fiddles, bass guitar and associated electronics.  The drum set, a DW set, was provided for the show by Rich Newland, from the local band, the Rock Dox.  The drummer for the show said this was one of the nicest set he's ever played on.
   Robert and I worked the afternoon prior to the show and came in early Tuesday morning to get the main P.A. set up and wired.  My goal was to have a completely finished stage, ready for the band to move onto when they arrived.  We achieved that goal with time to spare.
   The band, and tour manager, Andy Deveau, arrived around 11 am and in very short time we helped them get set up and wire in their gear.  I have worked with some pretty whiny and nasty tour managers in the past.  It was refreshing to  work with Andy, with his calm, polite demeanor and ability to focus and direct those who are assisting him in a courteous and professional manner.  This undoubtedly reflects on the MacMaster/Leahy style and I'm glad we had the opportunity to work with such a seasoned, professional and amiable group of people.
   The show was promoted and organized by the City of Caribou, spearheaded by Rich Ezzy and Gary Marquis, who did an excellent job of organizing and taking care of the band.  Robert and I also got the chance to work with John Belanger at Caribou High School and found him to be a valuable resource.  Hopefully, we won't have to wait another ten years to have this group back in the area.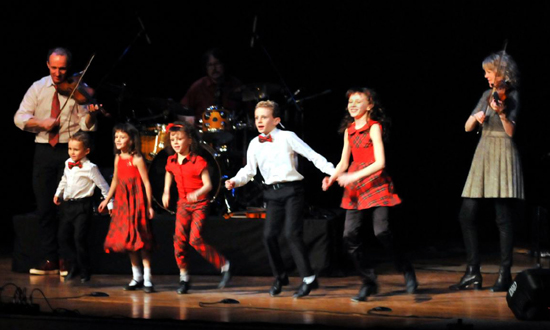 Donnell Leahy and his wife, Natalie MacMaster featured five of their six children in the finale of their first set at the concert held at Caribou Performing Arts Center last week.
all photos/David Deschesne
Robert and I provided a 32 channel, transformer-isolated microphone splitter—the only one known to be available in Northern Maine—that is the big box on bottom and is used to split all the microphones between the front of house speakers and stage monitor system.  The band's equipment is on top—they had nearly a dozen wireless systems for all their fiddles, bass guitar and in-ear monitors. 
We also provided a six thousand watt amplifier system for the show.  For you technical audiophiles, those are QSC PLX-3102 amplifiers—definitely upper-end stuff.
Each side of the stage featured a 3,000 watt bi-amped concert speaker stack.  These are all custom-built cabinets which I built over the past fifteen years.  You see, if this newspaper gig doesn't work out, I still have skills!