Back to Fort Fairfield Journal      WFFJ-TV      Contact Us
GSA vs FFHS Game Reunites Former Band Director With Fort Fairfield Acquaintances
By:  David Deschesne
Fort Fairfield Journal
March 1, 2017
   When former FFHS band director Steve Orlofsky left Fort Fairfield in 1987 for his new job at George Stevens Academy, he wondered how long it would take before GSA and FFHS would be in a match-up at the Eastern Maine basketball tournament.  As it turns out, it was thirty years.
   Orlofsky was band director through the early to mid-1980s  for Fort Fairfield Jr. High and High Schools (see "Time Machine" photos, page three of this issue).  His dynamic personality and passion for jazz made Fort Fairfield's band one of the top contenders at the state competitions both for concert as well as jazz (i.e. "stage") band divisions.
   When GSA and FFHS shaped up to be the numbers 1 and 2 basketball teams, respectively, in Eastern Maine's Class C division this year, he knew he was going to get the chance to be reunited with old acquaintances, friends and former students from Fort Fairfield.  "I didn't think it would take 30 years for GSA and Fort to meet up at tournament, but here we are," he said.
   Demonstrating good sportsmanship and school spirit toward their soon-to-be rivals, the GSA band, on site for their team's game later that day, filled in for Fort Fairfield's band during the Tigers' semi-final game against Schenck when Fort's band wasn't scheduled to make the trip to Bangor.
   And the good sportsmanship continued even during the title game between the GSA Eagles and FFHS Tigers.  Since both teams use the same school song, the Notre Dame Victory March, both bands played the school song together the several times it was played throughout the game.
   Orlofsky hasn't lost his touch for refining student-musicians.  For old timers, like this writer (who played in Orlofsky's band at FFHS), who remember what Fort's band sounded like in the mid-1980's, that same energy and sound continues to carry through to the GSA band today.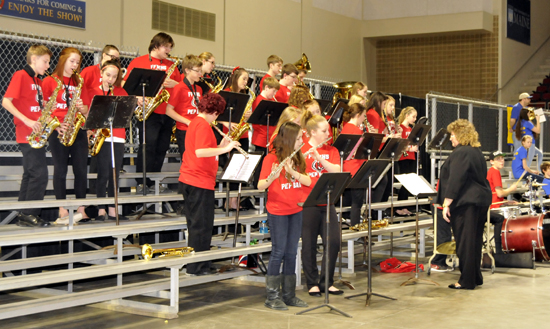 Above:  The FFMHS Tigers Pep Band, under the direction of Mari-Jo Hedman.  Below:  The George Stevens Academy Band, under the direction of Steve Orlofsky.  Both schools are Class C with roughly the same student population.