Back to Fort Fairfield Journal      WFFJ-TV      Contact Us
New Jersey Pastor Sends Words of
Support to Governor LePage
By:  David Deschesne
Fort Fairfield Journal, September 14, 2016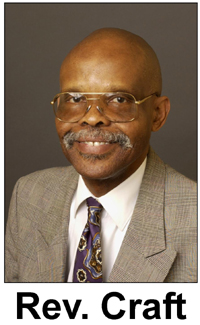 Reverend Steven Craft, from Monroe Township, New Jersey recently sent a letter to Maine Governor Paul LePage with words of support amidst the Governor's recent firestorm of criticism by the establishment media for some terse comments he made on a Maine legislator's voice mail.
   Amidst his campaign to curb the epidemic of New York-sourced heroin into the state, Governor LePage recently fell into the Democrat's race-baiting trap by furiously responding to Drew Gattine's (D-Westbrook) insinuation that he is a racist.  "When someone calls me a racist, I take it very seriously," said LePage a day after his voice mail comments. "I didn't know Drew Gattine from a hole in the wall until yesterday. It made me enormously angry when a TV reporter asked me for my reaction about Gattine calling me a racist. It is the absolute worst, most vile thing you can call a person."
   At that point, the Governor admits to calling Rep. Gattine on the phone and leaving an angry voice mail that, predictably, has some in the liberal establishment calling him "unfit" to be governor.   "I apologize for that to the people of Maine, but I make no apology for trying to end the drug epidemic that is ravaging our state. Legislators like Gattine would rather be politically correct and protect ruthless drug dealers than work with me to stop this crisis that is killing five Mainers a week."
   In a letter to Governor LePage, Rev. Craft gives words of encouragement to the beleaguered governor in his quest to rid Maine of the deadly drug, while the Democrats continually throw up roadblocks and distractions along the way.   "Just a word of encouragement from a Black, Conservative, Patriotic Clergy, who totally agrees [with you] and realizes the attacks you face in the liberal media!" wrote Rev. Craft in his letter to LePage.  "I am aware of the problems you face with the drug epidemic in your state.  As a former heroin addict from 1966 to 1976, I can testify that everything you say in regard to drug dealers and addicts is true. I have been clean and sober since 1977 and went on to earning a Master of Divinity Degree from Harvard University in 1996."
   In addition to a Master of Divinity Degree from Harvard, Rev. Craft also holds a Bachelor of Arts in Bible and Pastoral Counseling from Central Bible College in Springfield, Missouri. He completed Clinical Pastoral Education at Boone Hospital Center, in Columbia, Missouri.
   Reverend Craft has served as Correctional Chaplain at Moshannon Valley Correctional Center in Philipsburg, PA. He has served at Pine Prairie Correctional Center, in Pine Prairie, Louisiana. He also served as Chaplain at the Jefferson City Correctional Center in Jefferson City, Missouri. He is certified as a facilitator for Bullies2Buddies Program: How to Turn Enemies Into Friends, is certified as a Gang Prevention Educator and is also certified as an Instructor of Teaching English as a Second Language. He is also certified as a member of CUREnet and Urban Cure a Black Conservative Think Tank in the District of Columbia and speaks at various political events.
   Like the rest of the population, the Democrat party has realized its ideas and solutions are socially, morally and economically bankrupt. So, rather than attempt to defend their failed ideas they have resorted over the past few years to calling their opponents "racist," and engaging in other ad hominem attacks, in an attempt to degrade their opponents even if the term doesn't apply to the situation or topic.  This is a predictable tactic for anyone who ends up on the losing side of a debate. 
   Derogatory attacks are not limited by the Democrats to the State level.  While not race-baiting, Democrat candidate for Congress, Emily Cain is also actively engaged in negative smearing by issuing press release after press release explaining how bad her opponent, incumbent Republican Bruce Poliquin is, while staying completely silent on what her ideas and solutions are, and why they're better, if she were to be elected to that office.
   The Democrats' ubiquitous charge of "racist" extends to any subject.  For example, if you're opposed to the failed "ObamaCare" health insurance scam, you're a racist; if you want to return the U.S. money system to one backed by gold and silver coin of the Constitution, you're a racist; if you want to hold government accountable to the law, you're a racist; if you're opposed to abortion, you're a racist; if you're opposed to boys using the girls' restrooms in public school and changing with them in public pool houses, you're a racist, and so on.  According to the Democrat talking points, anyone who disagrees with their ideology - regardless of the topic - is to be deemed "racist."  In Governor Lepage's instance, Rep. Gattine called him a "racist" for attempting to thwart the importation of heroin into Maine; presumably because the overwhelming majority of those suspects who have been caught spiriting that deadly drug into the State have turned out to be African Americans.
   Rev. Craft, who is intimately familiar with the ravages of heroin addiction was able to pull himself out of that dungeon.  He is now a professional Prison Chaplain and facilitator with Prison Fellowship Ministries and is ordained and endorsed as a Institutional  Chaplain with the American Baptist Churches, U.S.A. and travels as a Motivational/Inspirational Speaker and author, speaking on issues involving religion, race, politics, youth, crime prevention, and sexual purity education.  He is currently the Executive Director of Christian Citizenship Ministries, Inc.
   "I have worked as a Correctional Chaplain at various  institutions, and now at the ripe young age of 72 years, I speak on substance abuse issues as opportunities arise," wrote Rev. Craft to LePage.  "Currently, I am assisting Dr. Kishore and Martin Sebrede in working to see how the 'Massachusetts Miracle' could become a reality in your state of Maine.  If I can be of assistance, in any way, do not hesitate to contact me."
   In an August 31 press release, Governor LePage expressed remorse for his errant behavior and apologized again.  "To the Maine people, I am asking for forgiveness. Comments I have expressed recently are unacceptable, and I apologize sincerely for using such disrespectful language as your Governor," said Governor LePage. "Also, I would like to express an apology to the Gattine family. I understand how hurtful statements affect a family and regret that my words have upset your lives. For this I am truly sorry."
   During a recent broadcast on WVOM 101.3 & 101.9 The Voice of Maine, the Governor agreed his comments were inappropriate and repeatedly expressed remorse for them. In an effort to bring closure for all those involved, Governor LePage invited Rep. Drew Gattine to meet privately. Furthermore, the Governor has said he and his family will be seeking spiritual guidance as they move forward in finding closure themselves.
   "We always have been a family of faith, and we recognize that the grace and guidance from God can make us stronger in life," said First Lady Ann LePage.