Back to Fort Fairfield Journal      WFFJ-TV      Contact Us
Tim Doak Hired as MSAD #20 Superintendent
By:  David Deschesne
Fort Fairfield Journal, August 3, 2016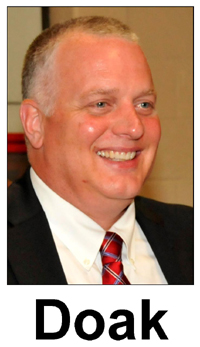 Tim Doak was recently hired by the school board as a part-time superintendent for MSAD #20 in Fort Fairfield. His services were contracted on a 1/2 time basis from RSU 32, which encompasses Caribou and Limestone schools.
   Tim began his teaching career in 1990 as a Social Studies teacher at Madawaska High School.  In 2000 he became the school's principal and in 2002 the Superintendent of Schools for Madawaska.  He has since been Superintendent at Fort Kent Community school, and Caribou schools.
   As a member of the Fort Fairfield High School Class of 1986, Doak gives all the credit for his success to the teachers at FFHS.  "The teachers in this community shaped me.  They added value to my life so I could turn around and add value to somebody else," he said.  "When I get a chance to talk to young kids, I tell them if you're going to get into a profession make sure wherever you go to work you add value to that company.  If you can add value to that company, you're going to make that company a better place. 
   Doak says to him, teachers are the most important people.  "They're number one.  They shape the future.  After that I think emergency medical people are second and I think people that go in the military are third. That's the kind of order I put it in in my life." 
   Tim and his wife, Cathy have two children and live in Fort Kent.