Back to Fort Fairfield Journal      WFFJ-TV      Contact Us
Fort Fairfield FFA Travels to Kentucky
Fort Fairfield Journal, December 9, 2015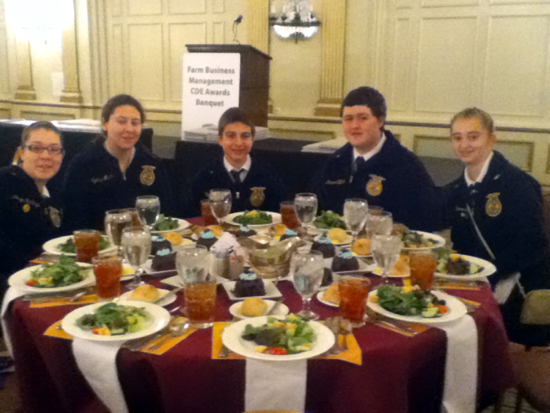 LOUISVILLE, Kentucky- Members of the Fort Fairfield Future Farmers of America (FFA) traveled to Louisville, Kentucky in October to participate in the National FFA Convention and Expo.  While there, the team was one of 43 that participated in the National FFA Farm Business Management Creed Speaking Career Development Event (CDE). The CDE was held in conjunction with the Convention & Expo.
   The team, led by advisor Jeannie Fox, was awarded a Bronze emblem. Members also competed for individual awards with 160 other participants. Brennen Griffeth, Mackenzie Macdougal, Hannah Holbrook, Kaley Norsworthy and Blake Parady each received a Bronze emblem.
   The top ten individuals and the national winning team received cash awards to recognize their success in the event. The coaches of the top two teams were named Farm Business Fellows. The cash awards and the farm business management event are sponsored by John Deere as a special project of the National FFA Foundation and the National FFA Organization. The cash awards and the Creed speaking event is sponsored by Red Brand as a special project of the National FFA Foundation and the National FFA Organization.
   The National FFA Creed Speaking CDE is designed to recognize outstanding FFA members for their ability to present the National FFA Creed in a competitive setting. Members deliver the Creed from memory and respond to three questions. The event gives FFA members the opportunity to develop their ability to communicate in a powerful, organized and professional manner.
   "Feeding some nine billion people by mid-century brings with it unprecedented challenges for today's farmers. Farm business management skills will help producers prepare to meet this critical need," said Amy Allen, National Corporate Contributions.
   The National FFA Farm Business Management CDE is designed to test the ability of students to apply economic principles and concepts in analyzing farm and ranch business management decisions. Participants respond to questions concerning economic principles in farm business management as well as a problem-solving analysis section. Each team in the event has competed with other chapters in their state for the privilege of participating in the national event.
    The event, held at the Hyatt Hotel in Louisville, Ky., is one of many educational activities at the National FFA Convention & Expo in which FFA members practice the lessons taught in agricultural education classes.