Century-Old Statue Gets Much Needed Facelift
Experts Restoring Joan of Arc to Her Former Glory
Fort Fairfield Journal, October 14, 2015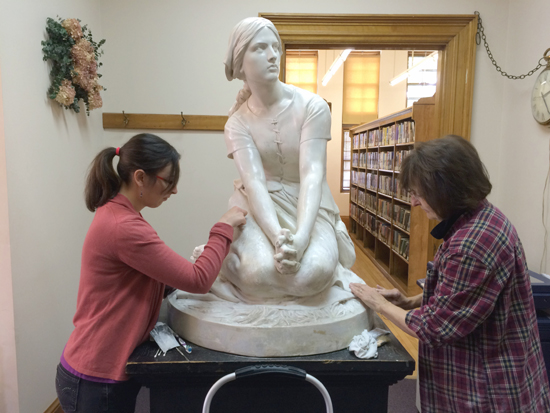 FORT FAIRFIELD, Maine – She has greeted guests at the entrance to the Fort Fairfield Public Library for nearly 100 years, but time and teens have taken their toll.  Joan of Arc, a plaster statue donated to the library in 1916, showed many signs of her age with worn paint, gouges and graffiti covering much of her surface. 
   "This beautiful statue of Joan of Arc has sat in the entrance way to the library for decades," explained head librarian, Jennifer Gaenzle.  "The location wasn't perfect though, because she was hidden behind the door when people entered, and the space is not climate controlled, so the cold and the heat helped play a part in wearing off her finish."
   Gaenzle says the statue also received some damage caused by people mistakenly knocking into her, and by others who wanted to make their mark on a piece of history. 
   "Unfortunately, visitors have carved their names and initials into the soft plaster for decades," she said.  "Believe it or not, some of the graffiti dates all the way back to the 1940s!"
With the 100th anniversary of her arrival quickly drawing near, the Fort Fairfield Library's Board of Trustees voted to bring in experts to refinish the statue and return it to its former glory. 
   On Thursday, Lisa Benson, and her mother Kathleen Shure, from the Guist Gallery in Boston began the painstaking restoration process.  Armed with sandpaper and an assortment of brushes, they began removing chipped paint, filling in gouges and preparing the plaster for a fresh coat of paint.  
"Most of the original paint had worn away," stated Lisa Benson.  "Now we are getting rid of the dirt and damage and are working to make the art look new and fresh again."
   The process of repairing the patina, repainting and protecting the plaster will take roughly two days to complete.  Once the work is finished, the statue will be moved to a new location inside the building to help protect the restored statue and showcase her for decades to come.
   The statue was donated to the library in 1916 by Alforetta & Adelaide Edwards in memory of their husband and father D.E. (Delmer) Edwards to celebrate the 100 year anniversary of the settlement of Fort Fairfield.  The library plans to rededicate the statue during the Maine Potato Blossom Festival, coinciding with the 200th anniversary of the town's settlement next year.
For more information, please call Jennifer Gaenzle at 325-1518 or library@fortfairfield.org or contact Tim Goff at 472-3802 or tgoff@fortfairfield.org