FFHS Golf Team Wins 7th Straight Aroostook League Championship
Fort Fairfield Journal, September 30, 2015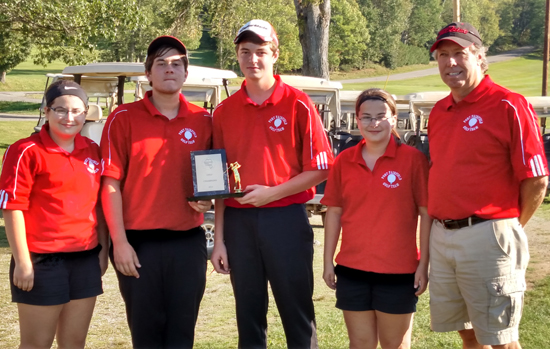 The Fort Fairfield High School Golf Team won it's 7 th straight Aroostook League Championship with a 13 stroke win over it's nearest competitor last Friday at VaJoWa Country Club in Island Falls. The team continued it's amazing streak of championships and did so with all underclassmen on the roster.
   Fort's winning team score of 409 outdistanced Hodgdon with a 422 and was followed by Central Aroostook at 471 and Southern Aroostook with 514. The top 4 golfers for Fort Fairfield were Jon Bernard with an 89, Sadie Edgecomb, 101, Sara Edgecomb 108 and Carter Brice 111.
   The team will be playing in the State Team Championships on October 10th in Augusta at Natanis Country Club.
   Three golfers also earned the opportunity to compete in the State Individual
Championship to be held in Augusta on October 17 th . Those qualifying include junior Jon Bernard and sophomores Sadie and Sara Edgecomb.
   Golf coach Larry Gardner said of his team, "The kids really played well today on a challenging course and certainly deserved to win by their effort. I'm very proud of all of them for the work they've put in this season. I'm also very happy for all those that qualified for the State Individual Championships as well. It will be a great experience for all of them to be able to compete with some of the best young golfers in the State."