Seventh-Day Adventists Hold Largest Camp Meeting Yet at Baptist Park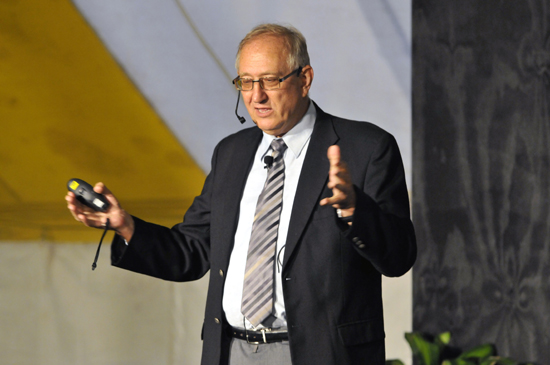 International lecturer, Walter Veith, was the keynote speaker at this year's Seventh Day Adventist summer camp. all photos/David Deschesne
By:  David Deschesne
Fort Fairfield Journal, September 2, 2015
MAPLETON, Maine—Seventh-Day Adventist churches from Presque Isle, Caribou, Oakfield and Lincoln joined together to hold their annual camp meeting at Baptist Park in Mapleton last week.  Wayne Smith, from the Caribou Seventh-Day Adventist Church says this is their fourth consecutive summer camp meeting they've held. "We've held it here at Baptist Park for the last three years and each year it's become more involved," said Smith.  "This year is the biggest one we've had so far because we've had a lot of interest from the speakers that we've invited."
   The keynote speaker for this year's camp meeting was Walter Veith. Veith has traveled widely throughout North America and the world presenting his visually documented Amazing Discoveries seminar series to large, enthusiastic crowds.  The information is based on his in-depth research in the areas of evolution and Creation, health and diet, and Bible prophecy.
   "Walter is quite a renowned speaker in the Adventist circles.  We have people attending from Southern New York, we've had some people who've talked about coming from Texas.  Walter Veith, himself, has flown in from South Africa by way of Vancouver, British Columbia," Smith told the Fort Fairfield Journal.
   During this year's camp meeting, Veith presented compelling information detailing the war the papacy has had with Protestants over the past nearly 500 years.  He demonstrated how the Protestant movement has been successfully infiltrated by Jesuits working stealthily on behalf of the Pope in order to fracture them into some 33,000 different denominations around the world.  He also outlined the papacy's current plan, in cooperation with the Lutheran church's headquarters, to invite all charismatic and evangelical Protestants around the world to a world summit in 2017 - the anniversary of Martin Luther's Protestant Reformation - in order to escalate the process of subduing and merging those protestant religious dominations into a one world religion.  Using voluminous documentation from Catholic sources, Veith explained how the papacy is  also concomitantly executing a centuries-old plan to merge all countries under a single, global federation—with all administered and dominated exclusively by a totalitarian papacy dictatorship.
   "Walter is known for a lot of different things but being soft-spoken and non-controversial is not one of his known qualities," said Smith. "He's very outspoken.  He's gentle with his comments but he has quite a following."
   As a Seventh-Day Adventist, Veith asserts he is a Protestant from the old school.  "I'm more Lutheran than most Lutherans are today," he said.
   Many of Veith's lectures can be accessed online at YouTube.
   Smith said when they found out Veith had accepted the speaking engagement it became apparent there were going to be more people in attendance than Baptist Park could handle.  "We started getting 300 registrants before December.  So we thought we better figure something out.  We thought about different places, we could maybe move to The Forum, maybe move to the Fairgrounds, but that just didn't pan out, either. 
   By Divine Providence the Adventists were able to secure the purchase of a 80' x 240' canvas tent from a seller on EBay and took delivery of it prior to the event.  Smith says they only set up part of the tent, or 80' x 140', for the event and had seating capable of accommodating around 400 people. "It was quite an experience for us because we've never done anything like this before."
   Other speakers during the weeklong camping experience were Marc Coleman and Gabriel Arruda. 
   Coleman, his wife Cathy, and their two daughters have spent many years on the cutting edge of missions in Thailand refugee camps and in church pl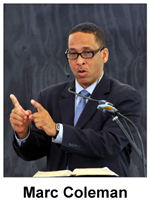 anting among the Muslim Susu people of Guinea, West Africa.  Marc currently serves as Adventist Frontier Mission's International Field Director.
   Arruda is an artist by trade.  He has found his greatest fulfillment in working for God.  He gave his heart fully to the Lord when he was 22 years old, and that has forever changed his life.        In 2007, he and his wife, Jennifer, were trained to do Bible work at the Amazing Facts Center of Evangelism (AFCOE).  He has been traveling for over a decade sharing the uplifting and encouraging messages of Bible prophecy.  He is the Director of the Evangelism for Life ministry.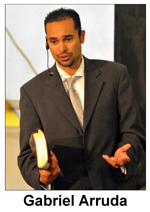 In addition to the Bible seminars, camp organizers also provided free breakfast and lunch meals and workshops in Upholstery, Woodworking, Firewood, First Aid/CPR, Brick Oven Bread Making, Country Living, Blacksmithing, Companion Planting and Gardening.
   "We're so thankful for the Baptist Park allowing us to have our third consecutive meeting here," said Smith.  They've been so pleasant to us and we really just appreciate it.  We've done a few things to help them out but nowhere near as much as we've received from them.  We're just so grateful to them." 
   A brief Fort Fairfield Journal Television news video of this event may be viewed online here.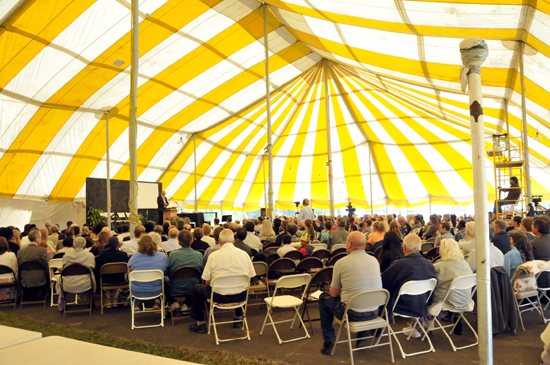 Area Seventh-Day Adventists held a camp meeting at Baptist Park last week under their own 80'x140' tent set up on the outdoor basketball court.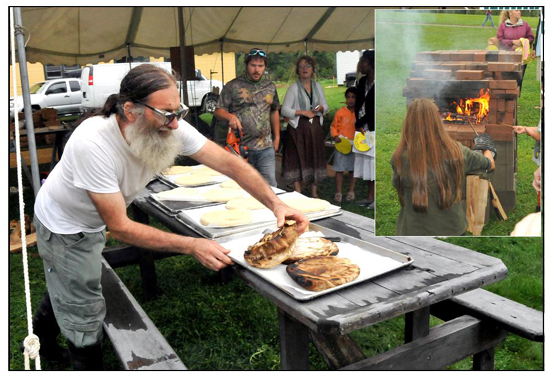 Various classes, workshops and seminars were held during the camp meeting.  Above:  Jack Doughty helps Debbie Simpson with the homemade bread baked in an outdoor brick oven.