Ten-year-old McKenna Condon Named Ashland Area Citizen of the Year
Fort Fairfield Journal, July 22, 2015
ASHLAND, Maine - The long Fourth of July Holiday weekend was a special one for ten-year-old McKenna Condon of Portage. After receiving attention earlier this year for donating money she collected, totaling $400, to Aroostook Cancer Care at TAMC, she was surprised at a ceremony naming her the recipient of the 2015 Ashland Area Citizen of the Year Award during the annual Summer Fest.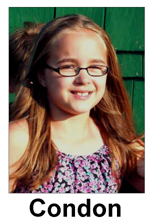 At a young age, Condon witnessed the impact that cancer has on the lives of individuals that it affects. Many of her friends and family members were facing challenges caused by the disease, and Condon decided that she wasn't going to stand by and watch without trying to make a difference.
   "One day I went into McKenna's room and she had made a sign for her piggy bank. It said 'Money for Care,' so I asked her what it was about. She said she wanted to collect money to help people with cancer," said Leslie Rafford, McKenna's mother.
   With the help of friends, family, and even Santa Claus, Condon raised $400 over the course of several months, all of which she generously donated to Aroostook Cancer Care to help those who are receiving treatment and facing the same challenges that she had seen her friends and family face.
   The caring and giving spirit of the young lady, who just completed the fourth grade, was recognized by her community who came together to say thank you and congratulations. In addition to the honor, Condon was recognized by officials from both TAMC and NorState Federal Credit Union.
   Glenda Dwyer, vice president of the TAMC Medical Group and an Ashland resident herself, joined in the ceremony presenting Condon with a fleece with her name embroidered on it with the words "2015 Ashland Area Citizen of the Year" underneath.
   "It is so wonderful that the community came together to recognize McKenna in this very special way. She is truly an outstanding citizen and, at such a young age, one whose example we can all follow," said Dwyer. "Her caring heart and generosity are so very much appreciated by our team at Aroostook Cancer Care. She is making a difference in the lives of our patients."
   As an added surprise, Norstate Federal Credit Union presented Condon with a check made out to TAMC Aroostook Cancer Care to match her original $400 donation. The gift was made in the ten-year-old girl's honor.
   "We believe in her vision and we realize that this cause is vital to the patients, families of our communities and the people we serve," said Susan G. Whitehead, CEO of NorState Federal Credit Union. "Cancer is a disease that touches many lives, not just those who are diagnosed, but family and friends as well are deeply affected."
   Whitehead says that Condon's efforts are consistent with NorState Federal Credit Union's mission and work.
   "When you have such a caring and compassionate person of such a young age with so much wisdom to recognize a need to make a difference, well, she is the perfect example of a Credit Union member and the Credit Union philosophy, of people-helping-people," stated Whitehead. "McKenna is to be commended for taking the initiative to save and sticking to her goals. To achieve such a great result is commendable, and we at NorState FCU felt she should be encouraged and rewarded."
   The award caught Condon by complete surprise, leaving her speechless upon receiving it.
   "I'm…shocked," she said, searching for another way to describe the excitement. "When I started saving my money, I didn't know that so many people would find out and all of this would happen."
   "When I found out that she would be receiving this award, I was so surprised. It's hard to believe that all of this has happened just because she started saving her money to make a donation," said Condon's mother, Leslie Rafford.
   Despite the attention that McKenna has received due to her generosity, she remains thoughtful of those who are facing battles with cancer and not herself. She intends to continue her effort to make a difference in the future.
   Recognizing the special ten-year-old as Citizen of the Year was the highlight of this year's Ashland Summer Fest for many, including event organizers.
   "This year was a lot more special because of who our Citizen of the Year was. She was a little shaken at first, but I think in the end will have some memories from the weekend that will stay with her forever," said Andrea White of the Ashland Summer Fest Committee.
   McKenna's willingness to give, and her community's willingness to recognize it, are both memorable and inspirational. This weekend will be remembered for years to come by all who experienced it.