Former C.I.A. Spy Originally from Fort Fairfield
Returns for Visit during Maine Potato Blossom Festival
By:  David Deschesne
Fort Fairfield Journal, July 22, 2015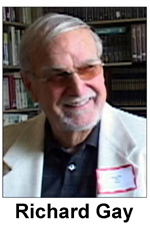 Richard Gay, Fort Fairfield High School Class of 1950, is a former spy for the C.I.A. and has co-authored the book, They Came to Destroy America on World War II NAZI espionage.  Gay returned to Fort Fairfield last week where he attended the FFHS Alumni banquet at the Fort Fairfield Middle/High School cafeteria.
   He had attended Lafayette College in Pennsylvania where he studied pre-med and took a course in the Russian language.  Gay joined the Air Force in January, 1954 and went into pilot training.   He was married in 1955 while still in the Air Force  and in 1956 he and his wife had twins during his first week of school at the University of Maine where he ultimately received a degree in Modern Languages and a minor is history.  He was recruited by the NSA while he was a Senior at the University of Maine.
   "I was Crypto-Analyst, Foreign Language.  I wasn't so much a crypto-analyst as I was a linguist/foreign language.  But the two worked kind of together," Gay told the Fort Fairfield Journal.  "I had something that the CIA wanted.  So they came over to NSA after I'd been there a little over three years and they recruited me right out of NSA.  It seemed more exciting to me.  I became a contract employee with the agency, rather than a staff employee.  I was contract.  In other words we negotiated my contract.  In fact, I got paid overtime which was unheard of. 
   He worked for the Agency during the Cold War and Vietnam War.  "I spent six years in southeast Asia with the Agency during the Vietnam war.  In fact, I arrived in the Vietnam War in 1960, before it started.  I can't go into a lot of what I did there.  I was a street spook, in other words I was a deep cover spy." 
   Gay says he's very happy with the career he had with the C.I.A.  "This is pretty much what I did.  I enjoyed it, I loved it." 
   He also co-authored/contributed to The Encyclopedia of Intelligence and Counterintelligence and authored, Under Cover as a Franco.
   Gay is fluent in English, French, Russian, Spanish, and Thai.  He is conversant in German, Italian, Japanese, Mandarin, Portuguese, and Romanian.  He currently lives in Blue Hill, Maine.
   To watch the WFFJ-TV interview with Mr. Gay, click here.