Fort Fairfield Hires New Town Manager
Fort Fairfield Journal, June 8, 2015
FORT FAIRFIELD, Maine  – On Friday, May 29th, the Fort Fairfield Town Council unanimously chose James Risner as the new Town Manager after a three-month nationwide search that yielded several qualified candidates. Risner, who is replacing outgoing Town Manager Michael Bosse, is a recent transplant to The County from Virginia.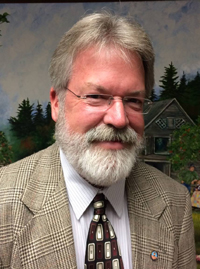 "I retired on February 28th after more than thirty-one years of federal service, the last twenty-eight as a Department of the Army civilian," stated Risner. "My last position was a Pentagon Liaison for the Program Executive Office for Ammunition. I began my federal service as an enlisted Marine, attaining the rank of Sergeant."
In addition to his public sector experience, Risner has over 14 years' experience in municipal government serving in many capacities, including; 2 terms asa town councilor in Culpeper, Virginia, chairman of the town planning commission, member of the town and county joint board of zoning appeals, and chairman of the Rappahannock-Rapidan Regional Commission.
Risner says one of his main goals as Town Manager is to improve economic opportunities for residents and the region.
"We need to look at ways to attract a diverse mix of businesses that bring jobs that can support families," he said.
While Risner's retirement was short lived, he is happy to get back to work, this time serving his newly made friends and neighbors in the community he now calls home.
"My wife and I spent several years looking for a place in Maine to retire to," he explained. "Fort Fairfield has what we were looking for; a small town with a good quality of life, close to a hospital and university. Folks have been very friendly and welcoming."