UMPI Students Call for Locally Produced Food
By:  David Deschesne
Fort Fairfield Journal, April 29, 2015
Photo/David Deschesne, Fort Fairfield Journal
   Students and some faculty at the University of Maine, Presque Isle recently organized a parade to bring awareness to the use of local food from the community within the University of Maine System.
   Bobbi-Jo Oatway helped to organize a Real Food Challenge Parade, which started at the UMPI Campus Center.  She hopes to raise awareness of where food is sourced with the goal of the University of Maine System transferring a portion of their food sourcing to local growers.  The University of Maine system is currently negotiating a contract for a new service provider and Oatway wants to see more locally grown foods integrated in the University's food purchasing decisions.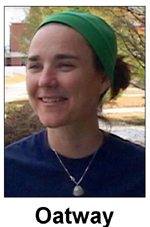 "We're raising awareness about local foods in our community.  We want to get 20 percent local food, real food that's ethical, humane and community-based written into the contract,"  said Oatway.  "That's going to support our community in a big way.  It will support the farmers and support the students because we're going to be getting healthier food."
   She also said there would be less pollution by eliminating the unnecessary transportation of some food that is grown locally, then transported to a distribution center in Portland, only to be turned back around and shipped back to Presque Isle to be consumed at the University.
   The parade participants started from the campus center and made their way down Main Street where they received many honks of support from passing motorists.  Oatway wants students to start thinking about the food that they eat and what's most important to them in their food buying decisions.  She is organizing a survey and petition drive at UMPI to gauge the support for locally grown foods to be offered at the University.
   We want students to say what's most important to them when they choose a food to eat.  For example, is it ethically raised, is it organic, is it local?  Do those things matter?  We're trying to get the students to fill out the survey and to really send a message to the university and to everyone that this is what we want and we want to be taken seriously." 
   The students were rallying around the national Real Food Challenge (RFC) campaign.  RFC has recently undertaken efforts to lobby Congress to stop the Trans Pacific Partnership fast track legislation that would require the U.S. to get rid of food labeling, import food that doesn't meet U.S. safety standards, overturn environmental regulations that hinder profits and offshore U.S. jobs.
   According to their website, RFC "leverages the power of youth and universities to create a healthy, fair and green food system."  The primary goal of their recent campaign is to shift $1 billion of existing university food budgets away from industrial farms and junk food towards local/community-based, fair, ecologically sound and humane food sources—what they call 'real food' - by 2020.
   RFC maintains a national network of student food activists, providing opportunities for networking, learning, and leadership development for thousands of emerging leaders.
   "You can find us on Facebook, it's part of the Real Food Challenge, or UMaine Foods, you can contact the University of Maine at Presque Isle directly and if you're a farmer or you know a farmer you can call us.  We want to get these things written into the contract.  We want to have farmers lined up to say what they can provide. We can do this, let's get together and stop outsourcing the food that we need for our communities."
   For more information on the Real Food Challenge campaign, go to www.realfoodchallenge.org or find them on Facebook.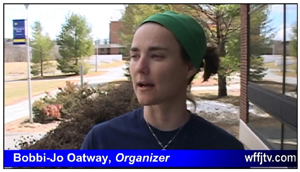 Click this icon to watch the WFFJ-TV Newscast of this event