Miami Man Arrested in Fort Fairfield, Charged with Heroin Trafficking
Fort Fairfield Journal, April 23, 2015
FORT FAIRFIELD, Maine—As the result of a joint investigation between the Fort Fairfield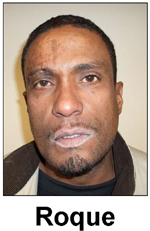 Police Department and the Maine Drug Enforcement Agency, a Florida man with a significant criminal history has been charged with felony trafficking in heroin in the small Central Aroostook Town of Fort Fairfield. The heroin that was seized during this investigation was likely the most significant seizure of heroin made in Aroostook County to date. Acting on information provided by Chief Bill Campbell, Public Safety Director from the Town of Fort Fairfield, MDEA agents from the Aroostook County Task Force opened an investigation into the sale of heroin from a residence located in Fort Fairfield. As part of the investigation, agents worked extensively with members of the Fort Fairfield Police Department gathering evidence in order to strengthen this case. This included the undercover purchase of heroin.
   Early on the morning of April 23, MDEA investigators, Fort Fairfield Police officers, Aroostook Sheriff's Deputies and US Border Patrol Agents executed a search warrant on a residence located inside the Border View Apartments in Fort Fairfield, Maine. In the apartment, agents located over 2 ounces of bulk, unpackaged heroin. The street value of this amount of heroin exceeds $20,000. Other evidence of drug trafficking was also seized during the search.
   Ignacio D. Roque, 37, has been living at this location since his release from a Miami prison in February of this year. Roque has an extensive criminal history, which includes previous drug offenses. At the time of his arrest, Roque was wanted on an outstanding arrest warrant from the State of Florida for parole violations.
   Roque was transported to the Aroostook County Jail where he has been charged with Class A Trafficking in Schedule W Drugs (Heroin). Bail was set at $20,000 cash. Roque was scheduled to have an initial court appearance on April 24.  Once again, this investigation highlights the significant impact that out of state drug traffickers are having on the State of Maine. Their presence is being felt in the most urban areas of our state, and now in some of the most rural.
   MDEA will continue to work tirelessly with all of our other law enforcement counterparts in doing our part to keep these ruthless traffickers out of our communities and away from our children. We cannot do it alone and need the assistance such as was provided by Chief Campbell and his staff. This investigation is continuing and more arrests are likely.
   If you have information concerning drug trafficking in your community, you are urged to contact your local law enforcement agency or the closest MDEA task force office. You may also call MDEA and leave a message on MDEA's tip-line at 1-800- 452-6457.