TAMC Conducts "Active Shooter Drill"
Feds Apparently Not Involved, So Nobody Got Hurt
By:  David Deschesne
Fort Fairfield Journal, October 15, 2014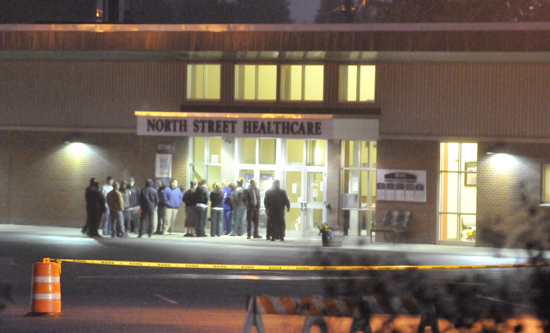 photo/David Deschesne
The Aroostook Medical Center (TAMC) conducted an emergency preparedness drill on Tuesday, September 30 at their North Street Healthcare facility in Presque Isle.  The purpose of the drill was to test procedures and protocols and enhance the community's ability to respond and recover from an active shooter event.
   "We accomplished what we set out to do," said Daryl Boucher, TAMC director of emergency and critical care services, regarding the complexity and various aspects of the drill, which involved an active shooter scenario at TAMC's North Street Healthcare facility. Boucher led a team of hospital and emergency personnel who planned the logistics of this event over the past several months.  "None of us ever want to see a real-life situation like the one that was tested in today's emergency preparedness drill. However it is exercises such as these that ensure first responders and emergency medical personnel are as prepared as they can be," said TAMC President and CEO Sylvia Getman. "We take very seriously our responsibility to make certain the safety of both the patients we serve and the members of our own TAMC family who professionally and compassionately deliver that care each and every day. Our efforts with this emergency preparedness drill always had the patients we serve and their safety in our care first and foremost in mind."
   However, the policy at TAMC and EMHS is to not allow people who have been trained in the safe use of firearms and vetted by their local police chief to carry a concealed firearm to have or use their firearm for self-defense, or the defense of others in any of their facilities; thus creating "Victim Disarmament Zones."
   The drill was a joint exercise of TAMC, the City of Presque Isle, the EMHS Center for Emergency Preparedness, the Northeastern Maine Regional Resource Center, and several local and regional first responders.  However, absent from the mix were any signs of federal agencies or independent federal operatives.
   Most of the mass shooting events in the U.S. over the past several years were done while one of these "active shooter drills" was taking place. Indeed, the events of 9/11/01 occurred under the cover of a drill with the FAA where planes were being simulated as flying into the buildings as real planes were actually doing so in real time.
  What happens in most high profile active shooter drills is a federal provocateur (usually a mind-control subject unaware of what he/she is doing) infiltrates the drill with a real gun and live ammo and causes it to go live, thus looking like a random, organic attack in order to advance the latest piece of anti-gun legislation. In many cases the local police aren't even aware of this tactic. If federal agents are involved in the drill, the likelihood of provocateuring increases exponentially. Another more subtle way of provocateuring is the soft false-flag; while the drill is going on and reporters and television cameras on the scene, the feds/police issue press releases indicating the (drill) is real and that's how it gets reported by gullible, easily manipulated reporters – even if it really is just a drill – because they've been trained to simply parrot press releases in cases like this without doing any actual investigation of their own.  This latter tactic appears to be what happened during the allegedly staged Sandy Hook Elementary school shootings in Newtown, Connecticut in 2012.  Recently, the F.B.I. released crime statistics for 2012 that showed there were no murders in Newtown that year, contrary to the carefully crafted story the mainstream news media presented to the world.
   There were no apparent agent provocateurs at the North Street Health Care drill and no federal entities in sight to hi-jack what was essentially a locally controlled and managed emergency preparedness drill.
   "Today's active shooter drill was a great opportunity for our department and the entire public safety community to experience a scenario that brings to light what we are taught to do in our training. Our officers responded as a group, as they are taught. Overall, we feel this exercise has been of great benefit," said Presque Isle Police Chief Matt Irwin. "We appreciate the opportunity to work collaboratively with TAMC and many other agencies to not only plan such exercises, but work together in our response."
   This activity was intended to test staff response, hospital capacity, and overall interaction between TAMC and fire, police, security, and EMS responders, according to Boucher.