Mazzuchelli Retires from Caribou Rec After 39 Years
By:  David Deschesne
Fort Fairfield Journal, August 20, 2014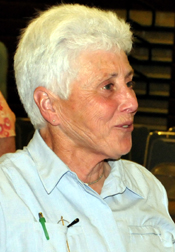 After thirty-nine years with the Caribou Parks & Recreation Department, superintendent Kathy Mazzuchelli is retiring.   A celebration of her life's accomplishments with the Rec Department was held at the Caribou Wellness Center last Saturday evening.
   "During her tenure, Kathy has put the Caribou Parks and Recreation Department on the map.  Kathy is well respected in our community, our county, our State and our nation.  She has made the Caribou Parks and Recreation Department a model that other recreation departments try to replicate in their own communities," said Sue White, chair of the Caribou Parks and Recreation Commission.  "I was six years old when I first met Maz.  In addition to being my coach, my boss, my collegue and my mentor she has had the rare distinction of showing me how to live as a productive and contributing member of the city of Caribou."
   In addition to her duties at the Caribou Parks & Recreation Department, Mazzuchelli has also been involved with the Hersey Track & Field Program for the past thirty-five years.  She's been instrumental in getting and keeping children involved in the Hersey program.  For the past thirteen to fifteen years Kathy traveled to the North American Hersey finals in Pennsylvania with five or six children from Maine every year. 
   "I do write a column, occasionally, when the need arises here in Caribou," said Gary Aiken, Mayor of Caribou.   "I end my column always with the comment, 'What have you done today to make Caribou a better place to live?'  It's one question that I'd never dare ask Kathy because she'd have an answer every day of the week.  If we had another 8,000 citizens like that here in Caribou my God, nobody could stop us."
   Austin Bleess, Caribou city manager, reflected on Kathy's accomplishments as Parks and Rec director, "I was talking with a lot of city managers from across the State this week and all of them are saying, 'how can you let Kathy retire?'  I kept saying I don't know, I'm trying to keep her.  Kathy is loved beyond the borders of Caribou.  She's done a great job and really does have the model rec. department that everyone wants to see."
   Kathy has also been intricately involved in snowmobiling in the area and has been instrumental in overseeing the genesis and development of what is now a highly organized and intricate snowmobile and multi-use trail system.   "Kathy and I have been on the Snowmobile Advisory Committee and she's been the chair of the committee almost since its beginning," Dwight Stickles, from the Caribou Snowmobile Club.  "We've had many discussions and many problems to solve that deal with snowmobiling in and around Caribou.  There's about one hundred miles of groomed trails in and around the community and it takes a lot of organization to keep that all running.  Kathy has been very instrumental in keeping the axles greased so things happen.  She has done so much behind the scenes - and out front - to make winters that much shorter here in Caribou because of snowmobiling."
   Mazzuchelli has mentored and guided literally thousands of Caribou's youth over the past four decades.   Abby and Paige Small were two of those youths.  When they were eleven and thirteen years old, Abby and Paige started Small Steps Dance School under the guidance and tutelage of Mazzuchelli.
   "Years ago, Abby and I encountered a challenge.  It was apparent to us that to continue dancing with the competitive dance troop that we were with and the traveling it entailed was indeed going to conflict with school sports that we also wanted to participate in," said Paige.  "We loved both and didn't want to give up either of them.  We labored over it and came up with a potential business plan.  We knew that we needed a mentor and it was Kathy.  We came to her with the idea of Small Steps Dance - a fun and affordable dance option for kids of all ages.  It was what we dreamed of accomplishing and she listened.  She helped us sort through the uncertainties that we had and encouraged and supported us in a way that has impacted us and our families in a memorable and meaningful way.  Kathy leads by example and has been the heart and soul of our community's greatest programs.  Her leadership and tireless ways have been instrumental in getting others to step up and assume leadership roles.  Her model of excellence and mentoring has been a gift to us fortunate enough to learn from you."
   "We were pretty lucky to have the programs we did in our community with the Parks and Recreation Department under Kathy's direction," Abby added.  "The parks, fields and buildings are always well-kept and pristine.  Her staff encourages fair play as well as play for all and the kindness shown for everybody young and old who use the facility is appreciated."
   Kathy started working at the Caribou Parks & Recreation Department when she was 25 years old.  "I actually think I had dark hair, then, I really do.  I kind of grew up here," she said.  "It has been a totally awesome journey."  She remains humble in her station to this day, choosing to recognize and give credit to all of those who helped her be successful in her career along the way.  "We've been successful in Caribou.  I say we've been successful in Caribou because as much as I was superintendent of Parks and Recreation, the wind beneath my wings were the people that worked for me."
   On her retirement, Kathy said there were no issues that prompted her to leave, it was just time to move on to other opportunities she had in her life.  "It was a difficult decision for me to talk about retirement.  There isn't anything that went on in Caribou that was driving me out, it's just that as we get older we like to do a few things.  I love to be active.  I love to kayak, I love to bike, I love to hike, I like to do things and all of a sudden it became very clear; some of my friends are retired and they're out doing things and always calling.  I'd say no, we've got to work, or we've got a special event.  It dawned on me one day that I love this, I love what I do, I've never come to work a day and not wanted to come even in the worst of days.  I said, you know, sometimes you've just got to follow your dreams.  So, it was the flip of a coin and that was it."
   Kathy says some people have seen her truck as she's about to leave and said it looks a little "Clampetish," referring to the loaded truck on the 1960's television show, The Beverly Hillbillies.  "I have some opportunities to travel and I'm going to take advantage of them.  I will tell you, yes, I sold my house; yes, I sold everything in it; and yes, I'm leaving with four kayaks, two bikes a tote full of clothes in a pickup truck and that's about it."
   Gary Marquis has been appointed new superintendent of Caribou Parks and Recreation to replace Mazzuchelli.  "He has worked here for twenty years.  I know most people don't even know who he is.  But I can tell you, he's awesome.  He is a very capable man.  He gets it, he's dedicated and has an unbelievable work ethic.  Sixty hours a week on salary means nothing to this man.  So I knew on five thirty Friday, when I walked out the door for the last time, I felt comfortable, I knew this whole thing is in good hands." 
Joining Mazzuchelli at her retirement party were (from left):  Sue White, Chairperson, Caribou Parks & Recreation Commission; Gary Aiker, Mayor of Caribou; Kathy Mazzuchelli; Austin Blees, Caribou City Manager; and Gary Marquis, incoming Superintendent, Caribou Parks & Recreation Department.
photo/David Deschesne