Fort Fairfield Knights of Columbus Celebrate 100th Year
Fourth Degree Knights of the Fort Fairfield's Knights of Columbus Council #1753 are accompanied by representatives from the State council as they parade down Main Street, Fort Fairfield on June 21, in commemoration of Fort Fairfield K of C's 100th anniversary.                photo/David Deschesne
By:  David Deschesne
   Fort Fairfield Council #1753 of the Knights of Columbus in Fort Fairfield celebrated their 100th anniversary on June 21 with a special Mass at St. Denis Catholic church and a ceremony at the council's hall on Main Street.
   As an international organization, the K of C was formed in October, 1881 by Father Michael J. McGivney in New Haven, Connecticut.  It was formed with the idea of providing a fraternal club for the Catholic men of the day, many of whom were immigrants, and also have the club operate as a life insurance program to help the women and children of its members after they passed away.
   "In Father McGivney's day, when a husband died the women and children who were left behind were left to fend for themselves.  That was an issue of great concern for Father," said Father Emile Dube, Chaplain of Council #1753.  
"The other thing, too, was at that time Catholics, especially Catholic men, really had no other organization they could go to to enjoy fraternity and to participate in charitable actions.  So Father McGivney thought it was a great importance that an organization be established to help the men of his parish so they could gather and enjoy fraternity in unity and do good works.  He also thought it was important to establish some way at helping their wives and their children if the men themselves passed away.  Thus the Knights of Columbus was born."
   In its early days, the K of C underwent criticism, even within the Catholic Church, for appearing to be a so-called "secret society."  However, the members insisted their club was merely for fraternal, benevolent issues and to provide life insurance for their members.  After several appeals to various Bishops and eventually the Pope, the K of C became recognized as a useful and functional adjunct to the Catholic Church; providing assistance to the missionaries, assisting with the war effort during the nation's great wars by providing for field services for Catholic servicemen as well as R&R huts for troops of all faiths while participating in war efforts, and most importantly, providing a life insurance program to assist families when the husband ultimately died.
   By 1914, when Council #1753 was formed in Fort Fairfield, the K of C as a whole was suffering from a wave of anti-Catholicism.  In 1914, the national Council had conceived a Commission on Religious Prejudices (CRP) which was constituted in 1915 and operated until the U.S. entered World War I.  The CRP represented an historic response  to anti-Catholicism by attempting to combat the anti-Catholic prejudices and biases in school and biases in school history books.  According to the encyclopedic Faith & Fraternalism:  The History of the Knights of Columbus 1882-1982, by Christopher Kauffman the CRP was similar in many respects to the Jewish fraternal society, B'nai B'rith in that "each society offered an insurance feature to protect the widow and orphan, each was based on the principals of unity, charity and patriotism; each developed a fraternal goal of absorbing immigrants of all nationalities who shared a common religious tradition; each society sought social legitimacy for all members of its faith."
   The Northern Maine Council #1753 was instituted on June 18, 1914 in Fort Fairfield by State Deputy, Fred E. Doyle, from Millinocket and District Deputy, Charles O'Connel from Van Buren.  The first Grand Knight for Council #1753 was Adrien F. Kelleher, who served in that position from 1914 - 1917.
   There were initially 31 charter members installed, led by Rev. George Pettit. Social conditions in Fort Fairfield at that time caused the members to erect a strong foundation that was able to weather the dark days of the Great Depression when councils all over the country were being dissolved.
   "It's been an absolute pleasure, as I went up through the ranks, Fort Fairfield council has been phenomenal in their works in Columbianism," said Phil Lizzote, immediate past State Deputy.  "It's unfortunate so many councils across the state have closed their doors.  I can just imagine in a hundred years of operation of this council, many years it probably wasn't very easy.  But this council put their nose to the grindstone and kept it up.  I'm sure the council's philosophy was it's all about those who need us; let's do what we need to do to stay open.  That's why they're still here, one hundred years later."
   According to a history of the council published in their 100th anniversary program booklet, "In its early days, the members devoted much of their time in aiding the local pastor as he had a triple job to do.  He had missions in Easton and Limestone, along with his work in Fort Fairfield.  Because of the splendid example these members set, several applications for membership were received from men in the mission churches."
   "From reports of the older members, this council was very instrumental in forming councils in Caribou, Presque Isle, Houlton and Benedicta; and in later years formed the councils in Limestone and Ashland."
   The Council's members originally met in the basement of St. Denis Catholic Church in Fort Fairfield.  They moved to a location over Ayoob's store in Hopkins Block on Main Street in the 1960's and finally built their own hall in 1970 which is where they continue to meet today.
   The Knights of Columbus have become a vital part of the community of Fort Fairfield.  The council provides annual scholarships to local high school graduates.  During the 1980's the council entered into a support program with St. Joseph's College, the only Catholic college in Maine.  For many years the council received recognition for its good works.  The council built and operates a hot food and drinks booth during the annual Maine Potato Blossom Festival, in Fort Fairfield.  The future of the council lies in the hands of the younger members, more of whom are coming forward to serve.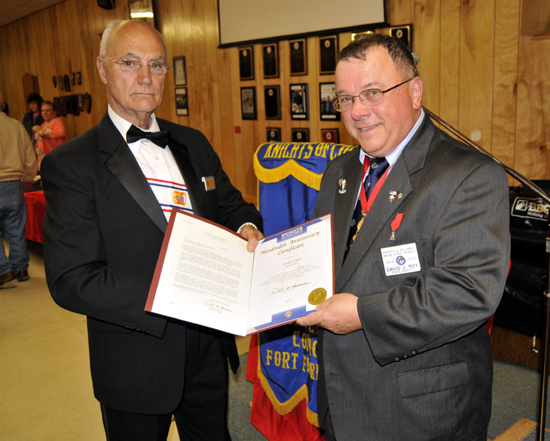 Grand Knight for Knights of Columbus Council #1753, Jim Cerrato (left) accepts a 100th anniversary certificate from David Roy, State Deputy of the K of C Maine State Council at the ceremony held at the K of C Hall on Main Street, Fort Fairfield on June 21.                         photo/David Deschesne