Fort Fairfield Now Through the Worst of the 2014 Spring Flood Season
By:  David Deschesne
Fort Fairfield Journal, April 18, 2014
   With record late winter snowfalls and extended freezing cycle into April, most of 2014's winter snow still remained intact through mid-April.  On Tuesday, April 15, though, the temperatures warmed to their seasonally normal 50 degrees Fahrenheit and, with some rain added in, the snow began to melt at an accelerated pace.
   "Flooding this year in Fort Fairfield has been a high concern for some time now, with the winter weather that we had, combined with the unusual spring," said Fort Fairfield Fire Chief, Mike Jalbert, whose volunteer department was on the scene to help monitor the dike, pump station and all traditional trouble spots.  "With the combined efforts with many agencies, every effort in dealing with the ice jams went smooth. Many hours of planning prior to the event allowed everyone involved to be successful and safe."
The ice did jam up by the Aroostook River bridge in Fort Fairfield, similar to the ice jam in 2006 when it was coming up over the railing on the North end.  What saved the town's Main Street from devastating flood and ice conditions was the dike on the river, which is now fifteen years old.
   "The Town of Fort Fairfield has been very proactive since the devastating flood of 1994. The Town, with much help, relocated or removed homes and businesses in the affected area. The construction of the dike in 1999 has proven its need many times beneficial, by saving Main Street from extreme flooding. Key partners also meet annually on the issues we may face, so we can be prepared."
   Chief Jalbert said the biggest issue his department faced during ice out was keeping the poeple in Fort Fairfield safe. "We cannot anticipate or control what the ice and water can present. Our main mode of attack is to close and barricade roads. This is very inconvenient for everyone, including emergency responders, but the value of a life outweighs the inconvenience by far. With this being said, it is important to remember each year that we face this threat, to be patient and cooperative with all closed roads. It's not our intent to inconvenience anyone."
   "Another issue we as emergency responders face, is to provide the same level of emergency services to each and every citizen, throughout the duration of ice out. With many closed roads, it creates a problem with gaining access to our citizens. With the help of surrounding towns and agencies, we are able to make it happen. We would like to thank everyone in the community for the continued support and cooperation in our efforts.
   On the behalf of the Fort Fairfield Fire Department, Chief Jalbert wishes to thank the volunteer fire fighters and the following surrounding towns, assisting agencies, and local businesses for their valued services and support during ice out 2014:  Fort Fairfield Police Department, Fort Fairfield Public Works, Town Office Staff, Fort Fairfield Utility District, SAD 20, Aroostook EMA, Maine DOT, Algonquin Power, National Weather Service, US Border Patrol, US and Canadian Customs, Maine State Police, Maine Forest Service, Maine Warden Service, Aroostook SO, Perth Andover Fire and Rescue, Ambulance New Brunswick, Limestone PD, Limestone Fire Department, Caribou Fire Department, Presque Isle Fire Department, R&J's Market, Harvest Market, VFW Ladies Auxiliary, and RH Fosters.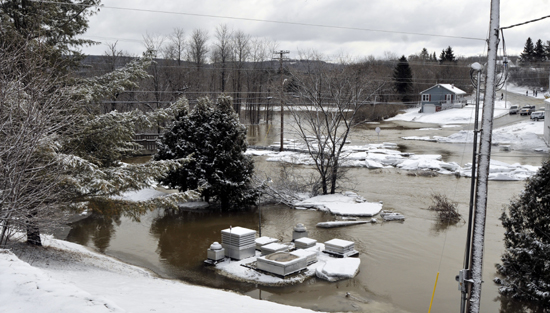 Puddledock was flooded for most of the day on April 16, making the Canadian port of entry at Fort Fairfield inaccessible to through traffic.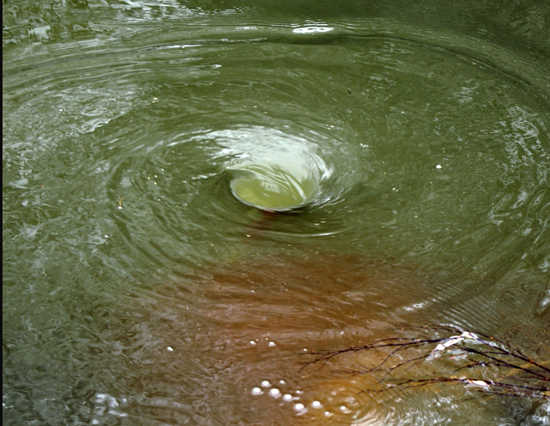 A 20 inch culvert on the Conant Road in Fort Fairfield was submerged under nearly two feet of water, creating this six inch diameter whirlpool.
all photos/David Deschesne