Flannery Retires From Town Council
2nd Longest serving member to date
By David Deschesne
Fort Fairfield Journal, December 28, 2011
FORT FAIRFIELD—After fifteen years of service on the Fort Fairfield tow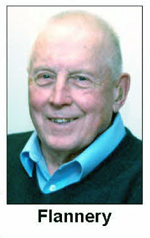 n council, Ruel Flannery has decided to retire from that post. The December, 2011 town council meeting was Flannery's last as council member.
Serving since 1996, Flannery is the second longest councilor on record to serve in that capacity. He served as council chair in 2002 and 2007; has been representative to the Chamber of Commerce for the past thirteen years; has supported initiatives such as the construction of the dike, moving the fire department from full to volunteer force, school consolidation, assuming ownership of the armory and creating a community center, building a new town office, purchasing and renovating 8.6 miles of rail, helped with building the new swimming pool, the bandstand, Riverside Park, FARM park, and rebuilding the Monson Pond dam. He also oversaw the development of business relationships with Pineland Farms and Aroostook Starch, as well as collaboration with the Loring Development Authority and the town of Limestone to share Fire Department resources. He was also active in planning the town's Sesquicentennial and participated in the Vision for Fort Fairfield's Future community development initiative.
"Ruel has been very involved in participating in many different activities, community initiatives, and committees," said Fort Fairfield town manager, Dan Foster. "Ruel takes time to listen to citizens, listen to their concerns and is always trying to find a way to meet the need."
Foster says Ruel is one of the most sincere and honest people he knows. "He simply says it how he sees it and his only goal has always been what is best for Fort Fairfield. I think that Ruel epitomizes what this community has consistently demonstrated: that despite the challenges that we find ourselves dealing with, we always find a way to come together to make it work. We celebrate our successes, recognizing the intrinsic value of finding the commonality that we all share. I, for one, feel very fortunate for working with Ruel for the past thirteen years and very much appreciate the value that he has brought to our community."
"Thirteen years ago I had the privilege of nominated Dan for town manager and that was the best decision we ever made," said Flannery. "Dan has done an outstanding job and I've appreciated very much working with him. Many times I sat in his office; we discussed issues and one thing he heard over and over was, 'No new taxes.'"
Flannery reflected on his service to the town as one that was a pleasure and a privilege. "I really appreciate it, I've learned so much. Many good things have happened since I've been on the council. The first couple of years were a little tough because I was always on the short end of a three to two vote but that all changed when Steve Ulman was nominated to the council. Things since then I think have really improved. Everything's been in a positive way and I believe we've accomplished a lot of issues that were very difficult to handle but we got through it. We approached every issue with a positive attitude."
Ruel says the town has a great group of people working for it. "Everybody's on the same page. They're interested in Fort Fairfield and that's what counts."
At his final town council meeting, Ruel was given a plaque commemorating his service to the town, as well as a personally embossed rocking chair.
At the recent election, John Herold, a former town council member, was elected to fill Ruel's vacant seat on the town council.