Fort's New LED Streetlights Burning Out Prematurely

By: David Deschesne

Fort Fairfield Journal, December 12, 2012

FORT FAIRFIELD, Maine

— In September, 2010, the town of Fort Fairfield completed a project to replace the town's conventional street lighting bulbs with highly efficient Light Emitting Diode (LED) units. The initial impact was a savings in electricity usage for the 175 converted streetlights but now, two years later, around half of them are starting to prematurely burn out.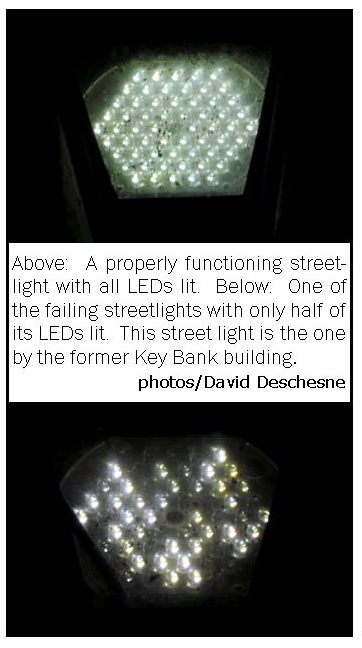 "We've had a number of failures and have taken down quite a few. There's a five year warrantee on them. But the warrantee is for the light, it's not for the labor to take a light out and install a new one," said town manager, Dan Foster.
Sylvania, the manufacturer of the LED fixtures, has gotten involved in investigating the problem. "They've tested a couple of the lights and are trying to determine exactly why we're having this problem."
It has also been affecting the school since some of their outdoor streetlights were also converted," said Foster.
The Fort Fairfield Middle/High School is looking at replacing all of their outdoor LED street lights.
LED fixtures use less energy than a conventional gas or incandescent bulb and are supposed to last for many years due to their low heat and current draw. However, the fixtures in Fort Fairfield, which are composed of approximately 60 high output LEDs are showing a premature failure of some of the individual LEDs within the fixture. On the lights that are beginning to fail, up to half of the LEDs in them no longer light up, or light very dimly.
Sylvania is trying to determine why this is happening in Fort Fairfield. George Watson, from the Fort Fairfield Highway Department has been keeping in touch with the company's representative to resolve this problem. "Hopefully they're going to come to some sort of resolution for this," said Foster. "We're talking close to 200 lights at $500 apiece. This is not something I was anticipating, but it is something the manufacturer is willing to take responsibility for."
Recently, the city of San Antonio, Texas had to replace 25,000 of their LED streetlights, manufactured by GreenStar, because they were affected by the moisture from rain. The lights were replaced with LED units that had been modified to be more weather resistant.
Update Jan. 9, 2013: Sylvania to replace deffective streetlights in Fort