Local Amateur Radio Club Holds Christmas Party in Style
By: David Deschesne
Fort Fairfield Journal, December 11, 2013
PRESQUE ISLE—Members of the Aroostook Amateur Radio Association (AARA) and their guests enjoyed the club's annual Christmas party at the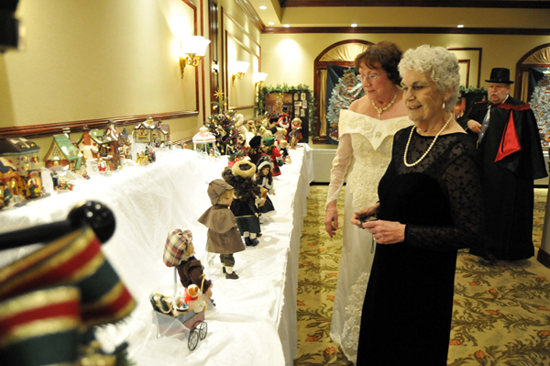 Northeastland Hotel last Friday evening.

This year, the club opted for a themed party and a committee composed of Linda Berry, Joan Shapiro and Michelle Sandelier was formed to plan and organize the event.

"This was a year in planning," said Shapiro. "We accumulated the dolls, figurines, costume material and decorations and compared notes every Saturday morning at the club's impromptu breakfast meetings held at McDonald's in Presque Isle."

The party featured dozens of china dolls and some hand

-crafted figures as well, with a theme that centered around various portions of The Nutcracker ballet.

The Nutcracker was originally choreographed in 1892 by Marius Petipa and Lev Ivanov. Its musical score was composed by Pyotr Tchaikovsky. With inspiration from that ballet and its era, the AARA decorating committee created several beautiful and colorful dioramas and various other displays throughout the entire banquet hall at the hotel.

"This is the second year we opted for a formal atmosphere for our Christmas party and have thoroughly enjoyed the ambiance the Northeastland Hotel has to offer, said Shapiro.

The AARA is an active amateur radio club consisting of FCC

-licensed Amateur— i.e. "Ham" — radio operators. Ham radio is the oldest form of wireless communications, predating the internet and cell phones by nearly 100 years. "Ham radio operators have been called upon during all major disasters when conventional communication systems are either down, or overwhelmed," said club president, Ivan Shapiro. "When not assisting with communications during emergencies, Ham radio is also a very exciting hobby where one may communicate with people around the world with a twelve volt radio set and a wire antenna."

Over the years, the AARA has assisted in local events in Aroostook County, such as the Can

-Am dog sled races in Fort Kent, various bicycle and running races and assists local boy and girl scout troops in earning their communications merit badges. The AARA conducts several pot luck suppers throughout the year, but the Christmas party is by far their largest production and the only one catered by a hotel restaurant.

For more information about how to become a licensed Ham radio operator, and to join the AARA, visit the club's website,

www.k1fs.org

Top photo: Joan Shapiro (left) walks Beverly Kornchuk through the various stations at the Aroostook Amateur Radio Association's Christmas Party held at the Northeastland Hotel last Friday evening. This year's theme was inspired by Tchaikovsky's The Nutcracker Suite and featured many dioramas of scenes from the popular ballet.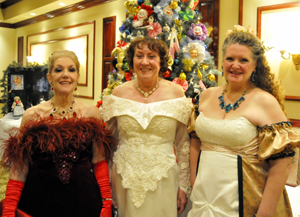 The decorating committee for the 2013 Aroostook Amateur Radio Association Christmas party (from left): Linda Berry, Joan Shapiro and Michelle Sandelier. Here they sport their Victorian era gowns. In many ways, this party was like a Senior prom for grown-ups.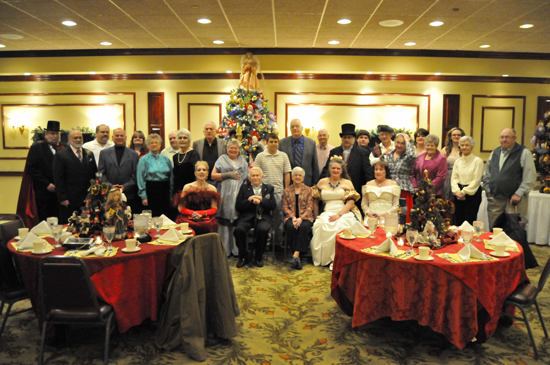 Aroostook Amateur Radio Association members and their guests at the annual Christmas party at the Northeastland Hotel. Below: One of the intricately constructed and well-thought-out dioramas inspired by The Nutcracker, on display during the party.
all photos/David Deschesne, KB1EBG