MDEA Investigates Potential
Drug Find in Fort Fairfield
By: David Deschesne
Fort Fairfield Journal
November 30, 2011
FORT FAIRFIELD, Maine - On Friday evening, November 25, Fort Fairfield Police
received a report of a motor home being abandoned at Giggey's Auto Service. Officers responded and entered the motor home to make sure no one was inside and to determine ownership, if possible.
Once inside, officers encountered items that they believed could have been evidence of illicit drugs being made inside that motor home. Fort Fairfield Police Chief, Bill Campbell contacted the Maine Drug Enforcement Agency (MDEA) and based upon his observations MDEA Agents obtained a search warrant to search the motor home.
"Given the nature of the search, MDEA's drug laboratory enforcement team was called in to process the motor home for evidence. Several items of evidence were seized, including apparatus Agents believe was used to ingest, convert or manufacture synthetic hallucinogens – commonly referred to as 'bath salts.'" said Darrell Crandell Jr., Commander MDEA Division II in Houlton. "Empty 'bath salt' packaging and other drugs were also seized from the motor home and all of the items are currently at the Health and Environmental Testing Laboratory in Augusta pending analysis."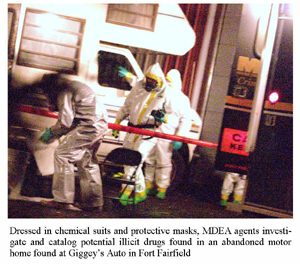 MDEA's lab team is comprised of agents and chemists who have been specially trained to OSHA standards in handling chemicals and other items used in the manufacture of illicit drugs. The team usually responds to labs where suspects have been making methamphetamine. Should this incident be confirmed as manufacturing of synthetic hallucinogens, it would be the first instance in Maine.

"MDEA Agents know who owns the motor home and are continuing their investigation. No arrests have been made at this time."

MDEA was assisted at the scene by Fort Fairfield Police, Fort Fairfield Fire, Maine DEP, Presque Isle Fire and Aroostook Emergency Management Agency.

The Maine DEA is continuing to be mute on the ownership of the motor home and any information they have regarding the substances found in it.

update as of December 4, 2011:

Even though the U.S. Marine Corps admittedly is assisting in the growing and production of opium in Afghanistan and the U.S. Drug Enforcement Agency and CIA have been caught shipping in illegal drugs through Mena, Arkansas under then governor, Bill Clinton, there is currently no corroboration to the rumor that the motor home found at Giggey's was either owned by the Feds or intended to produce drugs for the Feds.

photos/David Deschesne