Fort Lady Hits "Royal Slam" in Big Game Hunting

By: David Deschesne

Fort Fairfield Journal, November 14, 2012

FORT FAIRFIELD

—Deanna Kilcollins, wife of Robert Kilcollins in Fort Fairfield, was able to successfully bag four of Maine's big-game animals in this hunting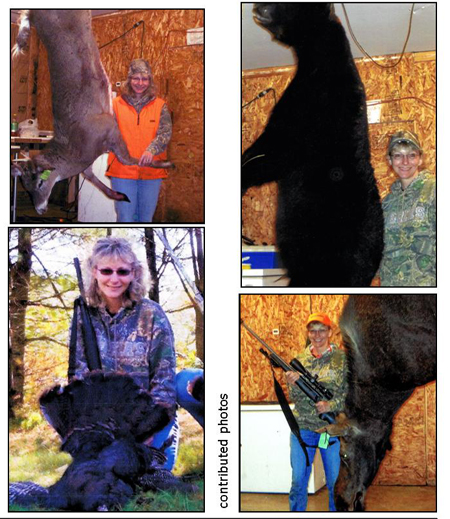 season. This would qualify her for the Maine Antler & Skull Trophy Club's (MASTC) "Royal Slam" award.

"She will be the third woman in Maine to receive this award," said Robert, "the last lady to receive it was in 1997."

Deanna's successful hunts were done in Fort Fairfield and Waterville. She got a deer, dressed out at 172 pounds; moose, 600 pounds; and bear, 472 pounds all in Fort Fairfield. The final big game trophy was a 17 pound turkey she got in Waterville. "We are going to have that turkey for Thanksgiving dinner."

Robert says using the Boone and Crocket Measurement standards of nose to back of skull and width of skull, the total measurement of the bear skull was 19

-3/4 inches.

Robert and Deanna plan to attend the MASTC annual banquet in Augusta next April to register her trophies.