Former Maine Governor, John Reed, Dies at 91

By: David Deschesne

Fort Fairfield Journal, November 14, 2012

DISTRICT OF COLUMBIA

—Former Maine Governor, John Hathaway Reed died on October 31, 2012 in the District of Columbia at the age of 91.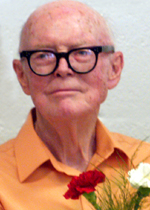 Reed was born in Fort Fairfield, Maine, in 1921. He graduated from the University of Maine in 1942. He served in the United States Navy in World War II, first graduating from Harvard's Navy Supply Corps School in 1944.

In 1953 he held a seat on the Maine Water Improvement Commission but resigned a year later to run for the Maine House of Representatives. Serving a single term in the House from 1955 to 1957, he ran for the Maine Senate in 1957 and upon reelection in 1959 was chosen Senate President. On September 20, 1959, Reed became Maine's Governor upon the death of Governor Clinton Clauson. In 1960 he defeated Democrat Frank Coffin to serve out the remainder of Clauson's term. He won Maine's first four

-year term as Governor with a narrow victory over Democrat Maynard Dolloff in 1962. During his tenure, Governor Reed served on the Executive Committee of the National Governors' Conference from 1963 to 1964, and from 1965 to 1966. He chaired the association in 1965 and the New England Governors' Conference from 1965 to 1966. In November 1966, Reed lost a reelection bid, being defeated by Democrat Ken Curtis. Shortly thereafter, Reed was appointed by President Lyndon B. Johnson to the National Transportation Safety Board. In 1976 and 1981, he served as the U.S. Ambassador to Sri Lanka and the Maldive Islands.

While governor, Mr. Reed was instrumental in starting educational television in Maine and oversaw the creation of the University of Maine System and the creation of Maine's District Court system which he signed into law on June 18, 1961.

In her book, The Maine District Court: A Quarter Century of Progress (Tower Publishing, 1987), Hon. Harriet P. Henry describes how Governor Reed undertook the establishment of a brand new court system to replace the municipal and county courts which had been in operation for decades. "The Governor faced an awesome task. Neither he nor any member of the Executive Council were lawyers. There was also concern that Governor Reed had the opportunity for a political bonanza in that most, if not all, of the 16 authorized District Court Judges would be appointed during his administration. The Governor declared, however, that he was determined to name the most qualified attorneys in the state to the new judgeships. He sought the assistance of the Maine State Bar Association in screening and evaluating potential candidates." (op cit. p. 11).

The Fort Fairfield Community Center is dedicated to John for his lifelong service to his community, state and nation. "Though his duties took him far from Fort Fairfield, the community was always near and dear to him. His many visits and his support of our community causes clearly demonstrated his love for Fort Fairfield," said Dan Foster, Fort Fairfield town manager. "Our thoughts and prayers are with John's family for a life well

-lived and a citizen who will be greatly missed."

"Maine has lost a great man with the passing of Governor John Reed," said current Maine Governor, Paul LePage. "The First Lady and I send our thoughts and prayers to his family and loved ones during this difficult time. Having the opportunity to have met him, I know he was a kind man, dedicated Navy veteran, and passionate about public service. It is a sad day for Maine as we have lost a man who contributed so much to our great State."

US Senator Susan Collins, who, like Reed, also hails from Aroostook County, said that no matter where Mr. Reed went, ''he never forgot his County roots.''

''In an interview a few years ago, Governor Reed was asked by a reporter what he'd like to be remembered for,'' Collins said in a statement. ''He said that he wanted to be remembered for doing what was right and that he always sought what was best for the people of Maine. For this, the people of Maine will forever be grateful.''

Reed lived in the District of Columbia after his retirement and kept in touch with his hometown community with occasional visits and a subscription to the Fort Fairfield Journal. Mr. Reed's wife, Cora Davison Reed, died in 2004.