Maine's Leading Independent News Source
Fort Fairfield Journal About Us Contact Us Advertising Rates Subscribe Distribution Bible Reference Our Library
Local National Guard Recruiter

Given Top Honors by Governor Paul LePage

KENNEBUNK, Maine

—SSG George Austin Churchill from Presque Isle received an award from Association of the United States Army and Governor Paul LePage for being the top recruiter in Maine Army National Guard.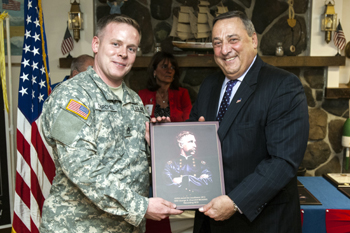 SSG Churchill recently returned to the local area after living away from Aroostook County for sixteen years. SSG Churchill joined the military in 1996 shortly after high school and served his country around the globe. He returned to Maine in 2007 to take a job as a National Guard Recruiter in the Portland area. In 2012, after five highly successful years in his position he requested to return to his native Aroostook County. SSG Churchill stated; "Growing up in Aroostook County I learned the value of hard work, good morals and patriotism. These traits were instilled from a very early age and have served me well in the service. Joining the military afforded me the opportunity to learn discipline, gain an education and travel around the world all while serving my country. I am honored to be awarded top recruiter in the state and look forward to continuing my service here at home in Aroostook County."

SSG Churchill's new office is located at the National Guard armory in Caribou at 120 Sincock St. He encourages all to apply at 207

-650-3719.
BOOKMART
Used Books, Movies and More!
Copy Print Fax
252 Main Street
Fort Fairfield, Maine
(207) 472-3900
Debt Collector Lawsuit Defense
Educate Yourself with our
Fort Fairfield Journal ©2012 David R. Deschesne, All Rights Reserved