Fort Fairfield Journal About Us Contact Us Advertising Rates Subscribe Distribution Bible Reference Our Library
McCrea Reelected to Fort Fairfield Town Council, Bob Kilcollins New Member
Fort Fairfield Journal, November 13, 2013
Fort Fairfield town council incumbent, David McCrea won his seat back in last week's election. The second seat up for grabs was taken by Bob Kilcollins. The voting breakdown for the four candidates vying for those two town council seats was:
David McCrea: 314
Bob Kilcollins: 248
Scott Smith: 155
Troy Blier: 108
Reelected to the MSAD #20 school board was Paula Perkins, who ran unopposed.
BOOKMART
Used Books, Movies and More!
Copy Print Fax
252 Main Street
Fort Fairfield, Maine
(207) 472-3900
Debt Collector Lawsuit Defense
Educate Yourself with our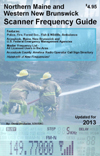 Northern Maine & Western New Brunswick Scanner Frequency Guide
2013 Edition
- Newly Revised
- Over 50 pages
- Emergency Government
Frequencies
- All Licensed Business and
Government Radios in Northern
Maine
- Aroostook County Ham Radio
Call sign Directory!
Available at:
BOOKMART, Ft. Fd.
Hillside IGA, Ft. Fd.
Buck's Market, P.I.
Bradley's Citgo, P.I.
Stew's Radio Shack, P.I.
Grave's Shop & Save, P.I.
C.J.'s Service Center, Caribou
Mars Hill IGA, Mars Hill
Fort Fairfield Journal ©2013 David R. Deschesne, All Rights Reserved