New Senior Housing Celebrates Grand Opening In Fort Fairfield
By: David Deschesne
Fort Fairfield Journal, October 30, 2013
The Meadows senior citizen housing project conducted its grand opening/open house ceremony on Friday, October 25.
The project was brought to completion with grants and loans from Maine State Housing Authority totaling $3 million; a loan of $1.083 million from Northern New England Housing Investment Fund; a loan of $117,500 from Coastal Enterprises, Inc. and a loan of $80,000 from Fort Fairfield Housing Authority.
"We all know that money doesn't build what you see here before you, people do. I want to thank J.P.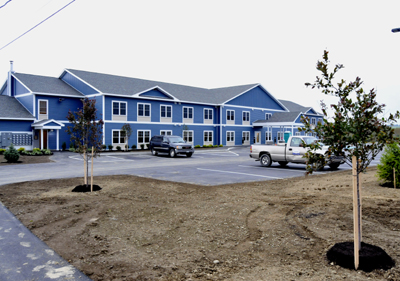 Martin & Sons construction and all their subcontractors that made this project a reality," said Wayne Troicke, Executive Director of Fort Fairfield Housing Authority. "Every project needs a guiding hand. Thanks to Fort Fairfield Residential Corporation board of directors for their vision., the residents in Fort Fairfield that participated in brainstorming sessions, the town council for their support, our developer, the town of Fort Fairfield with Dan Foster in the lead and last but not least, B.R. Smith and Associates."

Dan Brenan, Director of Development, Maine State Housing Authority said this is one of the most beautiful spots in all of Maine. "This is an absolutely beautiful project. The bottom line is it wouldn't have happened without hard work and dedication. It's not easy to do a project this size. You pulled it off, congratulations."

TD Bank purchased the tax credits from the project and provided the construction loan for the building and infrastructure. "TD is very thrilled to be a part of this project," said Kimberly Twitchell, V.P. Senior Lender, Commercial Real Estate, TD Bank. " I know it was a very, very long process to bring this project to close but when I look at it, today it is a truly magnificent project for the whole town."

The Meadows features 21 low cost apartment rentals with complete handicap accessibility and a wood pellet

-based central heating system. Currently, 7 new tenants have moved in with four more under lease for a total commitment so far of 11 units. Troicke says applications are still be accepted and reviewed until all units have been filled. When the complex reaches capacity, prospective applicants will be placed on a waiting list.