Fort Fairfield Journal About Us Contact Us Advertising Rates Subscribe Distribution Bible Reference Our Library
Robbie Watson Wins State Golf Championship
First Individual State Champion in FFHS History!
Fort Fairfield Journal, October 30, 2013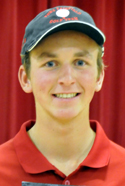 Fort Fairfield High School junior, Robbie Watson fired a one-under par 71 at Natanis Country Club in Augusta on Saturday to win the State Class C Schoolboy golf championship. Watson fired a two under par 34 on the difficult back nine to start his round and then shot a one-over 37 on the front nine for his 71, five strokes better than his nearest competitor. Watson was steady all day with his play from tee to green as he constantly put pressure on his playing partners by hitting his approach shots in tight and making several key putts including an eagle 3 on the par 5 17th hole, and several par saving putts to key his victory!
Fort golf coach Larry Gardner said of Watson's victory, "Robbie played one of the best rounds I've seen him play especially in a pressure situation. He played the course, and didn't worry about what his playing partners were doing, instead he let them worry about his game, which you could see was putting more and more pressure on those trying to catch him! He constantly made those 3, 4 and 5 foot putts for par, which really affected his playing partners."
ffj photo
BOOKMART
Used Books, Movies and More!
Copy Print Fax
252 Main Street
Fort Fairfield, Maine
(207) 472-3900
Debt Collector Lawsuit Defense
Educate Yourself with our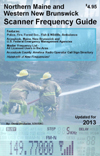 Northern Maine & Western New Brunswick Scanner Frequency Guide
2013 Edition
- Newly Revised
- Over 50 pages
- Emergency Government
Frequencies
- All Licensed Business and
Government Radios in Northern
Maine
- Aroostook County Ham Radio
Call sign Directory!
Available at:
BOOKMART, Ft. Fd.
Hillside IGA, Ft. Fd.
Buck's Market, P.I.
Bradley's Citgo, P.I.
Stew's Radio Shack, P.I.
Grave's Shop & Save, P.I.
C.J.'s Service Center, Caribou
Mars Hill IGA, Mars Hill
Fort Fairfield Journal ©2013 David R. Deschesne, All Rights Reserved