Fort Fairfield Journal About Us Contact Us Advertising Rates Subscribe Distribution Bible Reference Our Library
Easton Crash Injures Fort Fairfield Woman
Fort Fairfield Journal
October 28, 2013
A Fort Fairfield young woman is in critical condition following a head on crash in Easton Sunday afternoon. State Police said a 2008 Toyota pickup operated by 67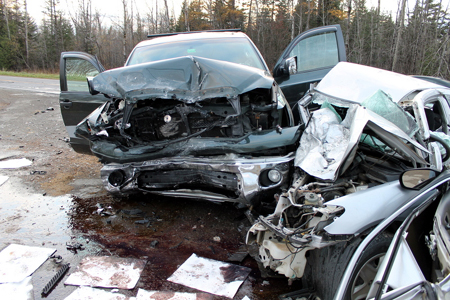 year old Barry Belyea of Portland was traveling north on Rt. 1A when his pickup partially crossed the centerline into the path of a 2004 Honda sedan operated by 19 year old Abigail Ladner of Fort Fairfield who was traveling south. The head-on collision took place near the intersection of Rt. 1A and the Lamoreau Road.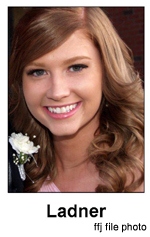 Abigail Ladner sustained life threatening injuries and is in critical condition at EMMC in Bangor. Belyea sustained minor injuries and a possible concussion from the crash. He was treated and released from the hospital in Presque Isle. The investigation is still ongoing, but it does not appear alcohol or speed were factors .
The crash , which took place about 4:30 p.m., is being investigated and reconstructed by Tr. Rob Flynn. He was assisted by Troopers Clark, Quint and Marquis. The Easton Fire Department responded to the crash site to extricate the injured who were pinned in their vehicles, and Crown Ambulance also responded to the scene.
crash photo/Maine State Police
BOOKMART
Used Books, Movies and More!
Copy Print Fax
252 Main Street
Fort Fairfield, Maine
(207) 472-3900
Debt Collector Lawsuit Defense
Educate Yourself with our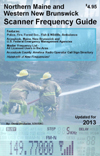 Northern Maine & Western New Brunswick Scanner Frequency Guide
2013 Edition
- Newly Revised
- Over 50 pages
- Emergency Government
Frequencies
- All Licensed Business and
Government Radios in Northern
Maine
- Aroostook County Ham Radio
Call sign Directory!
Available at:
BOOKMART, Ft. Fd.
Hillside IGA, Ft. Fd.
Buck's Market, P.I.
Bradley's Citgo, P.I.
Stew's Radio Shack, P.I.
Grave's Shop & Save, P.I.
C.J.'s Service Center, Caribou
Mars Hill IGA, Mars Hill
Fort Fairfield Journal ©2013 David R. Deschesne, All Rights Reserved