FFHS Golf Team State
Class C Runners-Up
The Fort Fairfield high School Golf Team played its best team round of the season to finish as State Class C Runners-up last Monday at Natanis Country Club in Waterville.
Fort's team score of 355 was second to St. Dom's high school,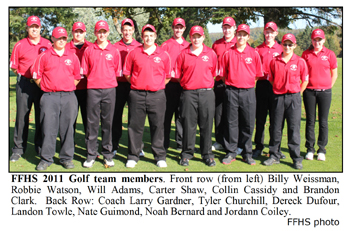 a private school of nearly 300 students, who scored 328. Houlton was third at 368, followed by seven other teams who competed for the State Championship. Fort's top 4 scorers were led by freshman Robbie Watson who shot 85, senior Dereck Dufour fired an 86, sophomore Noah Bernard had a 91 and senior Landon Towle shot 93 to complete the team scoring. Senior Billy Weissman rounded out the team with a 107.
There are 40 teams in Class C in the State and through regional play the top 10 teams get to play for the State title. The Tigers finished 6th in last year's State and were all very happy with their 2nd place showing in this year's championship. They knew that they were up against some tough competition from St. Dom's who has either won or finished second the last 5 years of competition. "We knew they were a good team as it's a private school and many golfers attend. They have 28 players on their golf team and their top five players are all single digit handicappers." stated Fort golf coach Larry Gardner.
"Our kids really played their best golf today under a lot of pressure and on a challenging course and I couldn't be prouder of the way they played and the way they conducted themselves in this championship. This is the best finish ever by a Fort golf team and you could tell all the players were really happy and excited when they were called up to receive their awards and the runner-up plaque. I'm especially happy for the three seniors who have played all four years and have helped to bring the golf team in Fort Fairfield to a new level. "
Gardner also wanted to thank his entire team of 12 players for their efforts all season long and with 4 seniors graduating he hopes the young players will continue to work on their games and continue this great run they have been on for three years. He also had high praise for Aroostook Valley Country Club, the Tiger's home course, for the support that his team receives from the club. "AVCC has been so supportive of our team by allowing members of the golf team to play for free all year long. This is very unique and I'm not sure how many other courses around the State actually do that for their teams but I know that our team certainly appreciates the chance to play on one of the finest courses in Maine and it is such a great opportunity for our kids."
Four golf team players also competed in the State Individual Championships for boys and girls held last Saturday at Natanis Country Club. Senior Billy Weissman, playing in his last golf match of his high school career shot 93, sophomore Noah Bernard fired a 95 while junior Brandon Clark and sophomore Jordann Coliey each shot 114. Gardner commented after the round, "This is certainly a great experience for all four of our golfers to get a chance to be among the elite golfers in the State who qualify for this championship. To be able to play with a gallery following you is something that they are not use to and it's a very unique experience to play under those circumstances. It will only make them better players in the future as they continue to work to improve their games."