"Team Sirois" Raises $4K
for Suicide Prevention
Participates in Out of Darkness Walk in Fort Kent & Boston
By: David Deschesne
Fort Fairfield Journal, October 19, 2011, p. 5
Two years ago when Lisa Sirois' husband, Scott died, the community of Fort Fairfield was very supportive of her and their two daughters, Chelsea and Jordan. This should not be a surprise to anyone who knows the people in Fort Fairfield, but the kindness and compassion for the Sirois family went above and beyond what they ever would have expected.
Earlier this year, Scott's sister, Sherrie, who now lives in Massachusetts, thought it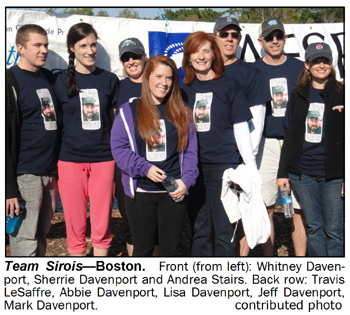 would be a nice remembrance if she and her family walked in the Out Of The Darkness walk which is sponsored by the American Foundation for Suicide Prevention (AFSP). She found an OOTD Walk in Boston just minutes away from her home and shared her thoughts with Lisa. "At the time I told her I would not be able to go all the way to Boston to walk, but would ask for a few donations up here to help her out," said Lisa Sirois. "She set up the "team" and a goal to reach $1000 for the AFSP. I first asked the Knights of Columbus to make a donation for me since Scott had been a Knight for so many years and the men have always been so helpful in our community. The agreed to not only donate but to designate an entire fundraising luncheon to our walk!"

At that point Sirois decided if the Knights were going to be that generous then she really should make the trip to Boston and walk with Scott's sister. "Since I work at the school, I thought I'd put out a request to both buildings. My first response was from the High School civil rights leader. She asked if she could have her civil rights students do a fundraiser of their own for us and challenged the kids to get sponsors to help."

At this point, Sirois and her youngest daughter, Jordan were planning on taking the trip to Boston when she learned there was a walk on the same day right here in Aroostook county. "I contacted the American Foundation for Suicide Prevention and asked if our team could walk in two different locations. He coordinated the moving of my walkers and me to the Fort Kent site. Being closer, I soon got more folks to join us and the support continued!" The walk commenced in Fort Kent on Saturday, October 15.

Lisa and her two daughters recently accepted a donation of $514 from the knights of Columbus on behalf of Team Sirois' efforts for the AFSP. "Jordan was given a donation from the High School civil rights team to which we added additional funds from colleagues, friends and family."

"I wish to give a heart

-felt Thank-You for all the wonderful people here in Fort Fairfield as well as the surrounding towns that have chipped in, and a huge thank-you to you to Dave at the Fort Fairfield Journal for publishing the original Knights fundraising announcement."

The combined efforts of both Boston and Fort Kent teams raised nearly $4,000 for suicide prevention.
Team Sirois—Fort Kent: Participating in the Out of Darkness Walk in remembrance of Scott Sirois were; Front row (from left), Lisa Sirois and Ethel Jalbert, coordinator. Middle row, Melanie Guimond, Madeline Martin, Jordan Sirois, Melissa McKenney, Christine Helstrom, Regan Sirois and LaNiece Winslow. Back row: Peg Mcafee, Paul Guimond, Jeremy Dillon, Mark Dillon, Eric Helstrom, Jon Helstrom, Jack Helstrom, Sonny Sirois. This team raised a grand total of $2345.07 Missing from photo are: Chelsea Sirois, Tre Sirois, Tracy Levesque and Savannah Churchill.
contributed photo