Local Lady Premieres Film at Portland Film Festival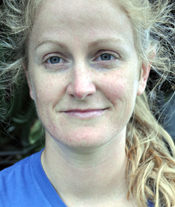 FORT FAIRFIELD, Maine—The new 21st Century After School Director at Fort Fairfield Schools, Renee Felini, recently premiered one of her films in a Portland, Maine on October 5th. The Aroostook County inhabitant was selected as one of the contributors to the 2012 Portland Maine Film Festival. Her film titled Tim's Jig was chosen to be screened as a "Made in Maine" film, a category that highlights the work of Maine creators.

The short comedic film features Felini's husband, Tim Bair, dancing a jig in front of several locations around Fort Fairfield and Caribou during springtime when snow is still on the ground in Northern Maine. In one of the scenes of the film, Bair appears doing his dance in a red union suit.

Throughout the film, the natural landscape and animals join in the celebration of the arrival of spring. The music in the film was created by the band Corkpads, which consists of Felini and Bair as the primary band members. Tim's Jig was written, directed, and edited by Felini.

Felini's body of work reflects her personal experiences. She hoped that this film would make people laugh and provide an escape from life's seriousness. She points out the personal importance of her work, "I created the film at a time when I needed to smile." Felini and Bair have worked together on several artworks, collaborating to materialize Felini's ideas. "He willingly agreed to make a fool of himself for a film I wished to make," Felini stated with a giggle, "He's my muse and I love him."

The Portland Maine Film Festival ran from October 4th – 7th, 2012. According to the website, "The Festival will host four jam-packed days of film, seminars, and celebrations, spotlighting independent filmmakers from across the globe, as well as established and emerging cinema artists of Maine." The film Tim's Jig was screened on Friday, October 5th at the University of Southern Maine in the Talbot Lecture Hall at 1:00pm. After the festival, Felini rereleased the film, which already had a wide-viewing audience, on YouTube. For more information about the festival, please visit

www.portlandmainefilmfest.com.

More information about Renee Felini's artwork can be found at www.reneefelini.com.