Fort Fairfield's Riverside Pavilion

Project Chosen by Lowe's Heroes

The Fort Fairfield Riverside Pavilion was the site of about 40 Lowe's Heroes workers volunteering their time to complete the project all day on Friday, September 9, 2011. Each year, the Lowe's Heroes volunteer program helps to improve the communities where Lowe's customers and employees work and live. Together, each store team identifies an improvement project that will make a difference in its community, such as working with Habitat for Humanity®

, a local public school or to better a community. While projects vary by location, Lowe's Heroes share a common mission to make their communities better places to live. In 2010, Lowe's Heroes participated in more than 1,300 projects.

The Fort Fairfield Riverside Park was conceptualized in 1996 after the flood in 1994. The Riverside Pavilion is the second phase of the project and the almost 1000 square foot area will feature; a roof covering 6 picnic tables, sink, wood stove, hot water heater, stainless steel work area, handicap accessible woman's and men's restrooms, drinking fountain, message board and barbeque grill.

The Lowe's Heroes will be completing work and supplying materials for the siding, interior walls and ceiling, painting and landscaping. "We are delighted the Lowe's Heroes chose the town of Fort Fairfield for their project this year," said Dan Foster, Town Manager of Fort Fairfield. "Since its inception Riverside Park has been a community driven and funded project. Their support of the Riverside Pavilion is a testament to this company and their employees' willingness to support their community." The Pavilion is available free to use by Fort Fairfield inhabitants. For more information or to make reservations please contact the Fort Fairfield Town Office at 472-3800.

Northern Maine's Largest Sound System Rental Company
BOOKMART
Used Books, Movies and More!
Copy Print Fax
252 Main Street
Fort Fairfield, Maine
(207) 472-3900
Debt Collector Lawsuit Defense
Educate Yourself with our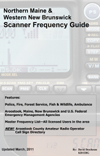 Northern Maine & Western New Brunswick Scanner Frequency Guide
2011 Edition
- Newly Revised
- Over 50 pages
- Emergency Government
Frequencies
- All Licensed Business and
Government Radios in Northern
Maine
- Aroostook County Ham Radio
Call sign Directory!
paperback $4.95
Available at:
BOOKMART, Ft. Fd.
Hillside IGA, Ft. Fd.
Buck's Market, P.I.
Bradley's Citgo, P.I.
Stew's Radio Shack, P.I.
Grave's Shop & Save, P.I.
C.J.'s Service Center, Caribou
Mars Hill IGA, Mars Hill