Fort Fire Department to Begin Billing for Non-Structure Fire Related Services

By: David Deschesne

Fort Fairfield Journal, August 24, 2011

The Fort Fairfield town council recently approved the fire department's new service billing policy to allow the fire department to invoice for non

-structure fire related services.

"When we formed fire departments eons ago, a house caught on fire, the fire department responded and put it out. Times have changed," said Fort Fairfield town manager, Dan Foster. "We don't really have a whole lot of structure fires anymore, but the fire department is now involved in EMS activities, a lot of vehicle accidents, chemical spills, and hazardous materials. They have the ability to bill for services."

Fort Fairfield fire chief, Paul Durepo, who is also fire chief for Limestone and Loring, has put together a billing policy for all services except structure fires. "For years we've been doing this work, cleaning up fuel spills

- especially large truck accidents," said Durepo. "We can bill the insurance company. I've done that in Limestone; we had one logging truck accident, we were there for seven hours, we cleaned it up. We sent them a bill for $4,700 and they paid it. If we use the "jaws of life" to cut someone out of a car, the fee would be $500; the insurance company pays that. They are used to doing that in other places, now they're going to have to start doing it here."

The policy only covers EMS services and fuel spillage clean

-up, services to put out structure fires will not be billed. For those individuals who do not have insurance, they will be billed directly. Though, Durepo admits that whether or not the department gets paid from a private individual is another matter altogether.

Northern Maine's Largest Sound System Rental Company
BOOKMART
Used Books, Movies and More!
Copy Print Fax
252 Main Street
Fort Fairfield, Maine
(207) 472-3900
Debt Collector Lawsuit Defense
Educate Yourself with our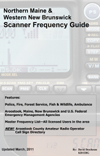 Northern Maine & Western New Brunswick Scanner Frequency Guide
2011 Edition
- Newly Revised
- Over 50 pages
- Emergency Government
Frequencies
- All Licensed Business and
Government Radios in Northern
Maine
- Aroostook County Ham Radio
Call sign Directory!
paperback $4.95
Available at:
BOOKMART, Ft. Fd.
Hillside IGA, Ft. Fd.
Buck's Market, P.I.
Bradley's Citgo, P.I.
Stew's Radio Shack, P.I.
Paradis Shop & Save, Caribou
Mars Hill IGA, Mars Hill