Local Parents Raising Money
to Adopt Haitian Children
By: David Deschesne
Fort Fairfield Journal, August 22, 2012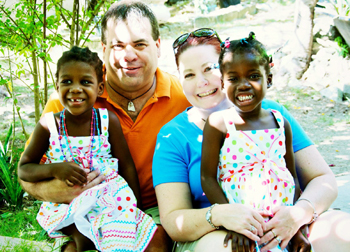 FORT FAIRFIELD

—Darren and Shelly Condon, will be hosting a fund-raising event at 86 Maple Grove Road on September 23, 2012. The couple is raising money to help adopt two young Haitian girls and bring them to Fort Fairfield.

"We have always longed to have children, but never expected to be adopting. In January 2010, after the devastating earthquake that hit Haiti, we found ourselves both sensing strongly that God was calling/asking us to adopt from Haiti," said Mrs. Condon. "To assist us, we chose an agency from Austin, TX called Children of All Nations. We submitted our initial application and fee to them in August of 2010 and began the wait."

After being approved, the Condons worked on their dossier for the next six months. When it came time to submit their paperwork, they found they only had enough money to adopt one child. "We were blessed anonymously by someone who felt God was telling them to partner with us on this journey and they provided the funds we needed to seek two children. We were so overwhelmed, grateful and excited... beyond words."

Darren and Shelly traveled to Haiti in February of this year as part of a required "bonding trip" to meet with their prospective adoptees where they spent a week with the two little girls, Sheldine and Nephtalie at the local orphanage, Maison des Enfants de Dieu—Home of God's Children. "There are no words to describe the week we spent with these two amazing little girls. The memories we have created are so special, and we know the bonding that has taken place between us and our girls will be vital when we bring them home. We fell so in love with them and knew immediately that this was our family that God had knit together."

The Condons have done many fund

-raisers over the last eighteen months and have been humbled by the outpouring of support from the community, family & friends. "We have done everything from a baby-sitting night during the holiday season last year- to multiple yard sales- spaghetti dinner & silent auction and bottle drives," said Shelly. "My husband has taken on carpentry jobs to earn extra money too."

The couple are currently planning their next big fund

-raiser at 86 Maple Grove Road on September 23 from Noon to 4pm. There will be face painting, a bounce-house & slip&slide. Also, horse rides, dunk tank and cake walk. Light snacks and hot dogs will also be sold at the Condon's Family "Fun" Raiser.

Shelly says this is not a journey for the faint

-of-heart. "We have a strong faith in God and know this is His plan for us. That being said, this is a very difficult journey filled with many uncertainties. We miss our kids more than we know how to express and long to have them home with us. We dream of the day that we fly down to Haiti for that final trip and re-board a plane as the Condon Family... a family of four! We have their bedroom all ready and a playroom all set up. We are ready! God calls us to take care of the widows and orphans ... (James 1:27 'Pure and genuine religion in the sight of God the Father means caring for orphans and widows in their distress and refusing to let the world corrupt you.')--- and we know God has called us to do just that."

For more information, call Shelly Condon at 554

-7399.