Governor Reed Remembered by Northern Maine Fair
By: David Deschesne
Fort Fairfield Journal, August 10, 2013
The late Governor, John H. Reed, from Fort Fairfield, was remembered as a supporter of the Northern Maine Fair on the back of this year's harness racing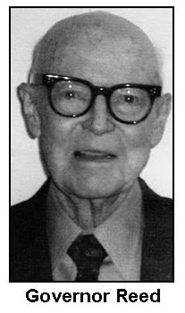 programs.
Governor Reed was recognized along with Glenda Winslow and Bud Stewart, who also passed away within the last few months.
Of Reed, the program book said, "On October 31, 2012, former Governor of Maine, and a Director and past President of the Northern Maine Fair, passed away at the age of 91. Governor Reed was born in Fort Fairfield, Maine. He was a leader in many civic organizations, and for a number of years served as President of the Northern Maine Fair.
An avid horseman, Governor Reed was a Charter member of the United States Trotting Association. He was an owner, trainer, driver and breeder of harness race horses. He drove and won his first race at age 15. For years he campaigned a stable on the Maine fair circuit. Among his favorite horses were Case Ace—2:03 3/4; Jay H.—2:04 1/5; Cardinal Direct—2:05 1/5; and Darnley Boy—2:05. His longtime friend and Maine racing legend, James Lee McKenney, trained and drove many of the Reed horses. One of his favorite things to do was get on the public address system and say, 'Welcome to the Northern Maine Fair.' He will be missed!"
The Northern Maine Fair, now in its 159th year, also shares another notable figure with Fort Fairfield in J. Wingate Haines. Haines was at once one of the founders of Fort Fairfield and an original founding member of the Northern Maine Fair.