Maine's Leading Independent News Source
Fort Fairfield Journal About Us Contact Us Advertising Rates Subscribe Distribution Bible Reference Our Library
Land Speed Racer Dies From Injuries

By: David Deschesne

Fort Fairfield Journal, July 24, 2013

LIMESTONE, Maine

— William "Bill" Warner, 44, a speed racer and tropical fish grower from Wimauma, Fla., died on July 14 while taking part in the annual Land Speed races, sanctioned by the Loring Timing Association at the former Loring Air Force Base. He was attempting to hit 300 mph within 1 mile on the airstrip of the former base just before 10 a.m. Sunday when he lost control of his modified turbocharged Suzuki Hayabusa motorcycle. After losing control of his bike and going into a slide, Warner was reportedly catapulted approximately 500 feet through the air, and slid another 500 feet after hitting the ground.

Limestone Police Chief Stacey Mahan said Warner went off the track and into the grass, where he and his bike went into a long slide.

He was immediately transported to Cary Medical Center and was pronounced dead at 11:15 a.m. After the crash, the remainder of Sunday's races were canceled.

On Saturday, Warner broke the 1

-mile record at Loring at 296 mph.
BOOKMART
Used Books, Movies and More!
Copy Print Fax
252 Main Street
Fort Fairfield, Maine
(207) 472-3900
Debt Collector Lawsuit Defense
Educate Yourself with our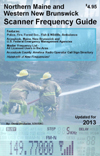 Northern Maine & Western New Brunswick Scanner Frequency Guide
2013 Edition
- Newly Revised
- Over 50 pages
- Emergency Government
Frequencies
- All Licensed Business and
Government Radios in Northern
Maine
- Aroostook County Ham Radio
Call sign Directory!
Available at:
BOOKMART, Ft. Fd.
Hillside IGA, Ft. Fd.
Buck's Market, P.I.
Bradley's Citgo, P.I.
Stew's Radio Shack, P.I.
Grave's Shop & Save, P.I.
C.J.'s Service Center, Caribou
Mars Hill IGA, Mars Hill
Fort Fairfield Journal ©2013 David R. Deschesne, All Rights Reserved