Presque Isle Man Charged With Murder
Fort Fairfield Journal
Thursday, July 12, 2012
State Police working with the Presque Isle Police Department arrested George Jaime Sr., 75, from Presque Isle, this afternoon and charged him with murder in connection with the death of Starlett "Star" Vining. Vining was last seen alive in the fall of 1998 in the Presque Isle area and would have been 38 years old at the time of her death.
Jaime Sr. was arrested at his pawnshop, "The Star City Trading Post", about 3:45 p.m. The business is located in a large apartment complex at the corner of Main and State Streets in Presque Isle that police have been searching since Monday.
Jaime was transported to the Aroostook County Jail in Houlton and will make his initial appearance at the Houlton courthouse on Friday.
Detectives continue their search of a building this evening. In 1998, Vining and Jaime were in a relationship and her body has not been located. Jaime owns the building that his business is located in. The arrest was made today after consulting with the attorney general's office and more details about the investigation will be contained in an affidavit released from the courthouse on Friday.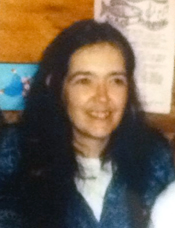 Star Vining in 1998, the year she was last seen alive.