Great Wall of Cereal adds to TAMC's
Community Food Drive Success
Fort Fairfield Journal, May 29, 2013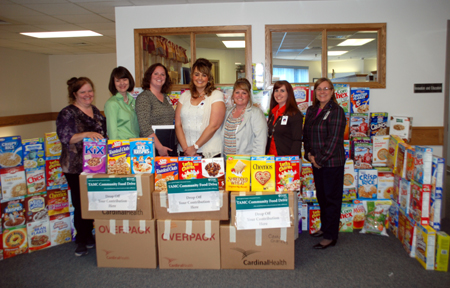 PRESQUE ISLE—The success of the community wide food drive coordinated by TAMC during National Hospital Week and National Nursing Home Week will greatly benefit those in need across Aroostook County.
Community members and employees of TAMC came together to collect nonperishable food items as part of an effort to demonstrate the connection between TAMC and the local community during the celebratory weeks. Following the week long collection, donations were distributed to Homeless Services of Aroostook, Catholic Charities, and Martha and Mary's Ministries.
Over 840 food items were donated as well as over 320 boxes of cereal. Altogether, the collection resulted in 1160 total items of boxed foods, cans of soup and vegetables, cereal, and other items to stock the shelves of the three charities.
"We are so grateful to our TAMC family and to our community for their generosity in supporting TAMC's second annual food drive. This year we added the Great Wall of Cereal challenge and this certainly bolstered our efforts," said Laura Turner, TAMC Food Drive committee co-chair. "Also, for the first time this year, we were pleased to partner with our local IGA stores and we appreciate their involvement. The TAMC food drive once again is a wonderful success and we are delighted to be able to help Martha and Mary Ministries, Catholic Charities and Homeless Services of Aroostook care for our friends and neighbors in need."
To expand on last year's effort, TAMC partnered with local IGA stores for drop-box locations and to conduct in-store promotions to their customers. The joint effort provided added convenience to folks interested in donating to the cause. Drop boxes were located at Mars Hill IGA, Star City IGA in Presque Isle, and Hillside IGA in Fort Fairfield.
Collection boxes were also placed at TAMC's A.R. Gould Memorial Hospital, County Dialysis Center, and North Street Healthcare in Presque Isle, along with the Aroostook Health Center in Mars Hill and TAMC Health Centers in Ashland, Fort Fairfield, Mars Hill, and Caribou. The multiple locations made it more convenient for people to donate their generous contributions.
The innovative add-on to this year's food drive of the building of the Great Wall of Cereal happened on Friday, May 17 in the Pinkham Entrance area of TAMC's A. R. Gould Memorial Hospital. Community members and employees who contributed received a free ice cream sundae made with Houlton Farms Dairy in honor of The County business' 75th anniversary.
"We are so pleased that the TAMC food drive was such a huge success and are honored to have been a part of such a worthy cause," said Mary Lincoln of Houlton Farms Dairy.
Turner agreed with Lincoln saying, "the TAMC team is delighted with the response from both our employees and the community and are happy to have contributed to the community in this way."
Above photo: TAMC Food Drive committee members stand around the "Great Wall of Cereal" and a few boxes to be distributed to Homeless Services of Aroostook, Martha & Mary's Ministries, and Catholic Charities. From left to right: Shelly Hewitt, Laura Turner (Committee Co-Chair), Kerri Watson-Blaisdell, Carrie Winslow, Lisa Martin, Amy Carlisle (Committee Co-Chair), and Sherry Beaulieu. Absent from photo is Vi Belanger and Gene Curtis. TAMC photo