New Fertilizer Plant Open
for Business in Fort Fairfield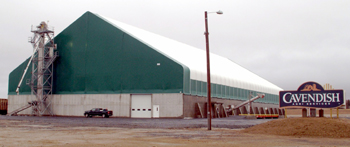 The Cavendish Fertilizer plant on Route 1a in Fort Fairfield.

photo/David Deschesne

FORT FAIRFIELD, Maine—Cavendish Agri Services' new $5.7 million fertilizer plant and mixing system in Fort Fairfield is now officially in business to service growers in Maine and New Brunswick.

"Strategically located in the heart of our potato growing regions, this new investment greatly enhances our ability to service the increasingly complex nutrient needs of growers with a highly efficient, 300

-ton per hour plant", said Robert Irving, President of Cavendish Agri Services, at the grand opening ceremony. "This means that our customers can count on Cavendish Agri Services more than ever to meet their need for speedy, reliable and precise fertilizer blends, even in periods of high demand."

The Fort Fairfield plant is the first fertilizer plant to be built in Maine in many decades and one of the largest in New England. The process equipment

- called Declining Weight Blend System - delivers unsurpassed accuracy and blending speeds. Compared to older plants, it will dramatically reduce the time required to fill a typical 16-ton farm truck from 35 to 4 minutes.

"We're set up to move product the least amount of times as possible. Like when you're hauling potatoes you don't move them four or five times because you'll bruise them, you'll damage them. With this system, once the material is unloaded from the rail cars into the bins, it doesn't move again until it is loaded on the farmer's truck," said Blaine McPherson, General Manager, Cavendish Agricultural Services. "The Declining Weight" system is totally different than what farmers are used to. Fertilizer, over the past number of years, would come out of hoppers and be mixed together with baffle mixers. This is an entirely different system where one part of the product goes on top of the other on a conveyor belt with up to twelve different components that can be added to the mixture."

Maine Governor Paul LePage congratulated the company for its new investment in Maine; "The State of Maine welcomes this major investment by Cavendish Agri in our agricultural infrastructure. On behalf of the Aroostook agricultural community, we recognize the foresight of Mr. Robert Irving and the entire Cavendish team for their leadership in building a state of the art facility in Fort Fairfield to ensure efficient, accurate delivery of product to growers on both sides of the border."

"Innovation and productivity are the keys to survival in today's global markets. We're pleased to see the continuation of the longstanding partnership between growers and the Cavendish Agri team. This longstanding partnership will enhance the competition of growers in this region", said Walter Whitcomb, Maine's Agriculture Commissioner.

The plant is equipped to source raw materials used to blend the fertilizer products from suppliers worldwide. Its current supply chain spans North America with suppliers in New Brunswick, Saskatchewan, Florida, North Carolina, Virginia and New Mexico.

"This investment underscores our commitment to grow along with our customers in Maine and New Brunswick and to meet their ever

-changing needs for high-yielding, high-quality crops", said Mr. Irving. "At J.D. Irving, Limited, we are proud of our sixty-year history of doing business in Maine and we are proud of our growing presence in U.S. agriculture."

Dan Foster, Fort Fairfield Town Manager spoke at the opening ceremony and reflected on communities' needs to garner investment in order to remain viable into the future. "In order for this community, this region, this state to have an economically sustainable environment we need investment. That means we need to have somebody out there who's going to take their hard

-earned money and invest it in us," said Foster. "Now there are lots of places where those resources can go; there's a world out there where people can invest their money. Over the past sixty years, the Irving family has invested in our forest industry, our agricultural industry, now with Maine Northern Railway they're investing in our transportation and they're looking to see what they might be able to do in mining. This family has consistently chosen to invest in us."

Among some of the other features of the new plant: a building footprint of just over one acre at 46,500 square feet; 20,000 tons of capacity; a receiving system from rail or truck to storage; and, a computer

-operated blending system equipped with sensors and scales to monitor accuracy in real-time.

Construction began on the facility in August 2011 and was completed in April 2012 in time for the 2012 growing season. During construction, the plant generated more than 26,000 person hours of work and utilized the goods and services of 18 Maine contractors, with the primary ones being Buck Construction Inc., Soderberg Construction, K

-Pel Industrial Services, Underwood Electric and CES Inc. At its peak, approximately 50 workers were on-site.

Started in 1989, Cavendish Agri Services is a subsidiary of J.D. Irving, Ltd. and specializes in crop nutrients and protectants, equipment, seed and farm supplies to the agricultural sector in Maine and Atlantic Canada. The company operates a network of 13 branches, including Presque Isle and Houlton and Fort Fairfield in Maine. Cavendish Agri Services is part of the Cavendish Group of Companies which includes Cavendish Farms, the 4th largest processor of frozen potato products in North America, and Cavendish Produce, specializing in fresh potatoes serving the retail and foodservice markets. For more information, visit the company's website at www.cavagri.com.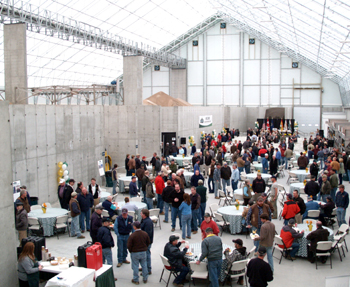 Inside the Cavendish fertilizer plant. Over 300 local growers
and business leaders attended an Open House for the state of
the art fertilizer plant in Fort Fairfield on April 20, 2012.
photo/David Deschesne