Two Crowned in 2013 Little Miss/

Pre-Teen Miss Fort Fairfield Pageant

By: David Deschesne

Fort Fairfield Journal, April 17, 2013

Emma Crouse and Cammi King were crowned the 2013 Little Miss and Miss Pre

-Teen Fort Fairfield, respectively, on April 5 at a pageant held at the Fort Fairfield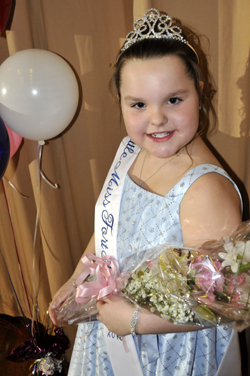 Middle/High School gym.

Emma is the daughter of Ron and Sarah Crouse. She performed a clogging dance routine to Floorfiller.

Cammi King is the daughter of Christi Rosado and Heath DeMerchant. She performed a clarinet solo to Danza Africana.

First runner

-up for little Miss was Abhi Alley-Violette. She performed a dance routine to Beauty and the Beast. Abhi is the daughter of Todd and Kerrie Alley-Violette.

The High ticket sales award was tied this year between the two twin sisters, Abhi and Hannah Alley

-Violette.

Other contestants participating in this year's pageant were: Skye Strid, Kayla Carter, and Jenna Cochran.

Escorts for the young ladies were; Christen Guimond and Ethan Sullivan.

Sponsors for this year's pageant were; County Federal Credit Union, Murchison Computer Sales, LeVasseur Backhoe, Hillside IGA, McGillan Inc., Big Cheese Pizza, H.O. Perry Agency, One of a Kind, Harvest Market and R&J Market.

Mistresses of Ceremonies were the mother/daughter team of Peggy and Aleesha Campbell.

The pageant was produced by Starlight Rebekah Lodge and directed by Penny Johnston, Peggy Campbell and Sandra Durepo.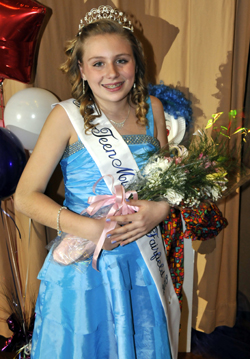 Above: Little Miss Fort Fairfield 2013, Emma Crouse
Below: Pre-Teen Miss Fort Fairfield 2013, Cammi King
photos/David Deschesne