Maine's Leading Independent News Source
Fort Fairfield Journal About Us Contact Us Advertising Rates Subscribe Distribution Bible Reference Our Library
Fish and Game Club Requests to

Have Land Returned from the Town

By: David Deschesne

Fort Fairfield Journal, April 17, 2013

FORT FAIRFIELD

—The land on Monson Pond that initially belonged to the Frontier Fish and Game Club was transferred to the town of Fort Fairfield in the 1960's order to help develop it into a recreation area. "That area is no longer being used for recreation so the Fish and Game Club would like to have the property back," said Fort Fairfield town manager, Dan Foster. "They're looking at possibly redeveloping the area and they need the land in case they need to put in a new septic system. The town has no specific need or use for the property; we don't see any reason why we would not want to honor this request. The Fish and Game Club has done a great job out there. Their group is doing well."

The Frontier Fish and Game Club is involved in the area, they're working on a boat landing for people to be able to access the water on Monson Pond.

A public hearing on the proposed land exchange was scheduled for 12:00 noon on April 17, the publication date of this newspaper. While the notice went to the newspaper in neighboring Presque Isle for publication as early as April 3, that same information was not shared with the Fort Fairfield Journal for their April 3 edition. Notification of the public notice was given to the Fort Fairfield Journal not by the town office, but by a private inhabitant in town.

Update: The Fort Fairfield town council voted to approve giving back the land to the Frontier Fish and Game Club at their April 17, 2013 meeting.
BOOKMART
Used Books, Movies and More!
Copy Print Fax
252 Main Street
Fort Fairfield, Maine
(207) 472-3900
Debt Collector Lawsuit Defense
Educate Yourself with our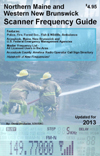 Northern Maine & Western New Brunswick Scanner Frequency Guide
2013 Edition
- Newly Revised
- Over 50 pages
- Emergency Government
Frequencies
- All Licensed Business and
Government Radios in Northern
Maine
- Aroostook County Ham Radio
Call sign Directory!
Available at:
BOOKMART, Ft. Fd.
Hillside IGA, Ft. Fd.
Buck's Market, P.I.
Bradley's Citgo, P.I.
Stew's Radio Shack, P.I.
Grave's Shop & Save, P.I.
C.J.'s Service Center, Caribou
Mars Hill IGA, Mars Hill
Fort Fairfield Journal ©2013 David R. Deschesne, All Rights Reserved